Sgt. Doakes becomes King of the forum
On Oct. 16 actor Erik King, best known for his role as Sergeant James Doakes on the TV show "Dexter" came to California Lutheran University and participated in the speaker series "Conversations with…" in the Preus-Brandt forum on campus.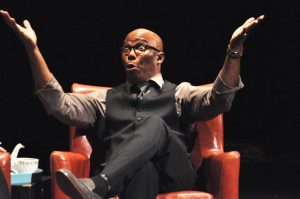 Actor, writer and director Markus Flanagan, who teaches in the Theatre Department at Cal Lutheran, hosts a one hour informal talk with an actor followed by a 30-minute question and answer session where the audience may ask questions to the actor.
Flanagan wrote a book called "One Less Bitter Actor: The Actor's Survival Guide," which focuses on questions Flanagan has received from students overtime about how to make it in the business and what their next steps out of college are, while at the same time trying to stay sane and focused.
"I built the event for the benefit of the Theatre Department students," Flanagan said. "So I wrote the book, and when I came here I asked if I could do a speaker series with this in mind, meaning for the Theatre Department, and open it up for the public."
Flanagan said the idea for the speaker series is to bring in veteran friends from the acting industry to have a very specific talk with how students can move on from college to the professional acting world.
Flanagan began the evening by showing the audience video clips of some of the work King had done over the years.
Flanagan and King sat down on the stage with a cup of tea and had a conversation as two old friends thinking back and talking about memories they had together, followed by King sharing his experiences in the acting industry over the years.
The main focus of the talk was Flanagan asking King questions about how he got to where he is today, what mistakes he has made and some of his embarrassing moments.
"My expectations [were] to have a good conversation with Markus, who I have worked with before and I'm very proud of him," King said. "I'm excited that he has a community where he can share his experience and asking me to come and be a part of that is very important."
The talk featured some of King's embarrassing moments over the years and the audience was filled with laughter during the one-hour discussion.
The conversation also featured more serious topics like prejudice and race. King shared his own experiences on things that have been difficult in his career and how he dealt with them.
King said if he had the same opportunity that the Cal Lutheran students have, there are several things he would have liked to know when he was younger.
"What pitfalls I might run into. How do I keep myself encouraged when I become doubtful when the business start to not play itself back the way I think it should be or the way I anticipated it to be," King said.
King said it's about having a longevity in the business. The process ebbs and flows, so it's not always going to be smooth-sailing.
When the one-hour discussion between Flanagan and King was finished, the audience had the opportunity to ask King questions.
"I thought he was very entertaining to watch, as well as his personality is very outgoing and he's very exuberating," senior Kayla Sawoski said. "He's very relatable. I feel like I knew him by watching this interview."
When the question and answer session with the audience concluded,  the Theatre Department stayed to have a more intimate question and answer session with King to talk mainly about acting technique.
"They [were] going to have students ask him other questions about technique and personal questions that he wouldn't answer to the audience in front of the camera," Sawoski said.
King said he just finished working on a show called "Banshee" and he looks forward to doing some postproduction on TV shows he has already done.
Karoline Johannessen
Staff Writer
Published October 21st, 2015