High expectations for returner-heavy Regals
The California Lutheran University women's basketball season is coming up shortly, with play beginning the first week of November.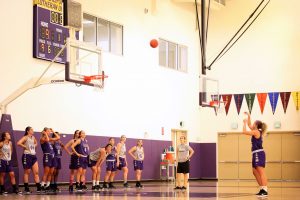 The Regals ended last season in second place in the Southern California Intercollegiate Athletic Conference with a 19-8 overall record and a 13-3 conference record. Junior guard Jessica Salottolo and senior guard Chelsea Jacoby were both awarded First-Team All-SCIAC recognition.
"Last season we came in second in SCIAC. We made it to the SCIAC Tournament championship game," Head Coach Lindsay Goldblatt said. "That was really good progress for us. I was really happy with the way [the] season went. We came in fourth the year before and we wanted to continue to build on the success we had."
The Regals made it to the SCIAC Tournament championship game and lost to Claremont-Mudd-Scripps, which was a major advancement according to Goldblatt.
"I feel like we had a lot of returners last year and [we] had good chemistry," Jacoby said. "We ended really strong. We lost to a really good team, they were 16-0. I think we did really well and want to come back this year and get the title."
The Regals intend to keep their hot streak as they head into the upcoming season. With seven new players, eight returners and all but one returning starter, the Regals hope to have a good season.
"We really have a chance of winning SCIAC or at least going far," Salottolo said. "Especially speaking for the entire team, we really want to go far in the tournament and hopefully even win the tournament. We just need to keep working really hard as a team and work together."
The Regals have been hard at work these past few weeks of practice. From weight lifting in the Forrest Fitness Center to open gym in Soiland, they have been preparing as a team for season.
According to Goldblatt, in these four weeks of practices before their first counted contest, the Regals are working on their offense and defense as a group, teaching the new players all of their plays and really forming the new team into a winning team.
"The team has been very welcoming in this process," freshman point-guard Grace Derksen said. "Coming into college is hard and also trying to get on the team. The pre-season workouts as a team have also been really good."
Having a good team dynamic is something Goldblatt and the returning players really stress is important.
"We think that the new players we brought in, a couple transfers and the rest freshmen, could make an immediate impact and surprise a lot of people," Goldblatt said. "They are working really hard at practice, picking up on everything quickly. They seem to be meshing with the returning players really well. We are really excited about the current state of the program and our new and returning players as well."
The Regals plan on having an extended season with the new and returning group of girls they have. Most of the returning players are upperclassmen and good leaders for the new players to look up to.
"I think this team has the potential this year to go far," Jacoby said. "With seven new girls we have to mesh them into what we have been doing. Overall I think our team goal is to win an NCAA title."
The Regals are set to start playing in early November. The first contest is a scrimmage on Nov. 1. They then have an exhibition against Vanguard University on Nov. 4 and their first counted contest game is in Newberg, Oregon against George Fox University on Nov. 13. The team will stay in Oregon to play against Lewis & Clark College on Nov. 14.
Courtney Sooy
Staff Writer
Published October 28th, 2015