Billet brings fresh take to rec sports
You may have seen him around the gym or walking down the spine coming from the Student Life module. You may not have even noticed him because he looks like a student on his way to class. One thing is for sure, if you are into sports and fitness, he's the guy you want to know. Brett Billet is straight out of graduate school and now running some major programs at California Lutheran University.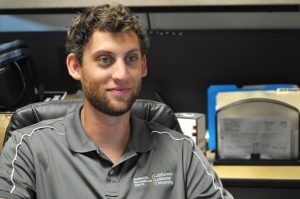 "I oversee the fitness center, the outdoor recreational programs, as well as the intramural programs," Billet said.  "I have 25 staff and two interns for the fitness center. I have 10 officials for intramurals and a couple interns for outdoor recreational sports."
Billet's official title is Coordinator of Recreational Sports, but for his interns and staff he does so much more.
Justin Freeman, an intern for the Forrest Fitness Center said, "He's a really approachable person. He has an open door policy where we can just go in and talk about anything, whether it's about our jobs or school in general."
Sean Bellotti, a recreational sports intern said it's not intimidating talking to Billet.
"He's really professional but he relates to students very well, especially because he is close to our ages. So it's a good balance."
Considering Billet's position is a part of the Cal Lutheran's Student Life, for him it is important that the students come first.
"Everything is pretty much student- run. They create and run the programs and I oversee and provide guidance where needed," Billet said. "I really enjoy being around the students. They have so much energy and enthusiasm and it's rewarding to see how students ideas grow and how invested they become because it reminds me of how I was."
Daniella Izaguirre, a Forrest Fitness Center intern, said he makes an effort to get to know all of his employees and interns.
"He comes out of his office and talks to all of us so he is really trying to build strong relationships and that makes it easier for us to go to him with any concerns or questions we have."
Billet did his undergraduate studies at University of California, Los Angeles and attended graduate school at the University of the Pacific. At UCLA he was very involved in recreational sports.
"I loved sports my whole life. I went to college and didn't realize that I could do this as a career. So I started as an official, refereeing football and basketball at UCLA, and went to a recreation conference and fell in love with recreational sports," Billet said.
Bellotti said with Billets experience working at a large university, he can bring some fresh ideas and strategies to Cal Lutheran.
Over the years the recreational sports program has had multiple coordinators each bringing their own personalities and styles to the position. Many of the interns now have been through the changes with the program and are feeling good about the way it is going this year.
"There has been a lot of changes especially with the interns," Izaguirre said. "With the internship position, it was kind of up in the air with what we were supposed to do but now it's a lot more structured and consistent. We know what we are supposed to do and when we are supposed to do it."
Brett has also implemented ways to make the fitness center more efficient.
"Brett is a really smart person," Freeman said. "He just started here and has already been doing a lot to revamp the way the Forrest Fitness Center is ran.  He has us work a lot more with technology now, which makes things run a lot smoother.
With Billet's student-related perspective on things, he's expecting to get students more involved in the gym and recreational sports.
"I'm hoping to bring passion and an open mind," Billet said. "I'm close to the age of most of the students here so I'm still learning myself, but I definitely want to improve things where I can and build on things that are already strong."
Fall recreational sports are currently underway but look out for sign-ups for the Hall Cup Tournaments where you can compete in different sports with people from your resident hall.
Islamiyah Arogundade
Staff Writer
Published November 4th, 2015