Kearney can do it all
The California Lutheran University Kingsmen soccer team has many standout players, but sophomore forward Brandon Kearney is leading the way for his team this year.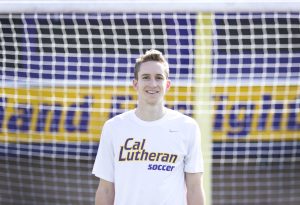 Kearney transferred to Cal Lutheran last year after attending Colorado Mesa University as a freshman. He was injured and ended up using a medical redshirt so he could keep his playing eligibility. This is his second year playing for the Kingsmen.
"I wanted to come to Cal Lu right out of high school but the Colorado school offered me a scholarship so I thought it's an opportunity and I have to take that up," Kearney said. "It wasn't what I expected it to be so I transferred here to Cal Lu."
Coming to Cal Lutheran was always in the cards for Kearney but playing two positions he never attempted before wasn't. He was thrown into the center-back position last year and performed well. According to clusports.com, Kearney played in 15 games, starting in all but two of them. His lone point of the season was an assist against Claremont-Mudd-Scripps.
This year he has moved to forward and is excelling at it. He currently has 12 goals which leads the Southern California Intercollegiate Athletic Conference.
"He is a fun guy to watch. He played defender his first year. He had to endure the wrath of all those teams," Head Coach Daniel Kuntz said. "We saw him in preseason and he was doing a good job of shooting the ball. We thought 'you know what, he has size, he has speed and he has strength, maybe he should be a forward for us.'"
On top of his conference-leading 12 goals, Kearney has 26 points as well which places him  second in the SCIAC.
"Brandon has helped the team recently by instilling confidence in the team," Nick Baldi, senior midfielder and captain, said in an email interview. "We know as a team that we can score on every team in the league because we have done so, mainly through Brandon. Brandon continues to shine up top for us and we look to him as a clinical finisher."
The Kingsmen have struggled as of late with a 2-13-3 record, but Kearney has been a major player who has kept the team going.
"It is frustrating to be hanging out up top and looking out and not being able to help them. It's hard to watch. I feel like we all need to be on the same page," Kearney said. "We really lacked communication this year. It is also really hard for anyone to score a goal in the game and then get scored on right after. It feels like that goal means nothing for the team after all."
Kearney is a team player and said he always believed the Kingsmen were much better than the record showed. He felt the struggle of the team as a whole and it was hard to watch because he was only able to help on the offensive side of the pitch. He said he believes that communication is something the Kingsmen need to work on in the future to be successful.
"Brandon is a top-class player who leads by example. He exerts dominance on the field athletically, technically and tactically," Tal Zaiet, senior defender and captain said in an email interview. "The man understands soccer as well as anyone in the country and I'm not surprised he's leading the league in goals and points."
Kearney said he hopes the team can turn it around next year. He knows they have the potential and they just need to come together and make it happen.
"He just gets that in order to have something successful, you need to work hard and take on responsibility with others," Kuntz said. "He has found success in the league and can help the rest of the team find success as well."
Courtney Sooy
Staff Writer
Published November 4th, 2015