The California Lutheran University Regals soccer team is a group of women who dominate the soccer field. Among them is senior forward Raquel "Rocky" Weckhurst, a force to be reckoned with both on and off the field.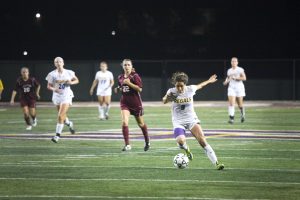 Weckhurst previously attended Pierce College, College of the Canyons and played soccer for Jacksonville University before transferring to Cal Lutheran for her senior year and her final season on the soccer field. Weckhurst is currently the leading scorer for the Regals and is one of the top scorers in the Southern California Intercollegiate Athletic Conference.
For Weckhurst, soccer has been the constant in her life that has brought her through the best and worst of times.
"For me it symbolizes my journey in life. It symbolizes failures, successes, hard times and good times," Weckhurst said. "Just the constant battle that life throws at you, it kind of all finds a way to be represented on the soccer field, and it just means everything to me. It's hard to explain it. It's something that I never want to stop doing, it's something that I've always done and I can't really imagine myself without it."
As a full-time student majoring in  sociology,  a student athlete and a full-time mom to her daughter, Weckhurst knows what it means to battle through life's challenges and to keep moving forward.
For junior forward Katelyn Kimball, Weckhurst represents what it means to persevere through anything and to come out on top.
"Rocky exemplifies a role model off the field, showing us what it means to juggle motherhood with advancing in academics and also being a student athlete," Kimball said.  "On the field she takes the role of a leader by showing our team a great example of a successful soccer player as well as juggling motherhood with school life."
Even though Weckhurst has only been playing for the Regals for one season, she has become one of the top players and leaders on the team, a position she takes seriously as she tries to make a lasting impression on the younger players.
"It's honestly such an amazing feeling. I'm not actually a team captain here but I do feel that sense of leadership, and I feel players looking up to me in a way that I used to look up to seniors I played with when I was a freshman, players I'll probably always look up to," Weckhurst said. "So to think that I'm in those shoes is just so amazing because that's kind of what I've always wanted to do. It's been a hard journey, but now being here and seeing those eyes looking up to me and their faces lighting up when I try to be encouraging is really incredible."
For her teammates, Weckhurst has always shown generosity and kindness.
"Rocky from day one has been genuinely very sweet. She doesn't treat anybody differently than anybody else and she's nice to everybody she talks to. She's easy to talk to, funny and really very nice," Kimball said.
Prior to coming to Cal Lutheran, Weckhurst believed her soccer career was over. But with the support of her family she was able to take the field for one final year. Weckhurst said it is because of them that she is as successful as she is today.
"I think they are literally the entire foundation of all of my success. Anything I've done would have been impossible without that support they've given me," Wekhurst said. "When there were a few times where I wouldn't believe in myself, just knowing that they believed in me was what made me decide that I'm going to give it a go, I'm going to try to do it. Not because I think I can but also because they think I can."
With the Regals' season ending after a loss to Pomona-Pitzer in the SCIAC Tournament on Nov. 7, Weckhurst's playing days have come to an end. However she will leave behind a team that thanks her for the lessons she has taught them and what she brought to the team.
"I would want to tell her a big thank you for us, for showing us what it means to have a second chance at fixing her mistakes, since I know she started at a different school but she turned her life around," Kimball said.  "Showing us what it means to never give up and to persevere through hard times, always follow your dreams and not give up when things get hard."
Hailey Klemenok
Staff Writer
Published November 11th, 2015