Built to signify the victory of France in the French Revolution, the Eiffel Tower has stood as the symbol of Paris since 1889. The light of the tower has lit up the night sky and has been a pillar of triumph since its creation.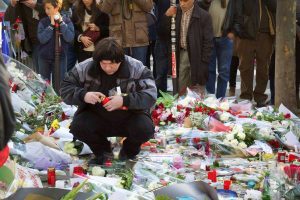 After the attacks on Nov. 13 the Eiffel Tower was completely dark, before its normal time showing defeat among the city for the first time in its history and to mourn the victims who lost their lives.
According to the L.A. Times on Nov. 16 at least 132 people have died and there have been at least 353 injured in the sequence of attacks on Nov. 13.
The militant group, Islamic State of Iraq and Greater Syria, better known as ISIS, has claimed responsibility for the attacks. They launched "a series of explosions and shootings at popular nightspots," according to the L.A. Times.
One of the six attacked locations was the crowded Stade de France, the national stadium in Saint-Denis, located just North of Paris. California Lutheran University student, Bruno Sajor, was there for a night of soccer to watch France and Germany battle for a win.
Sajor never imagined that night he would be battling for his life. 
"We were jumping up and down and cheering with the French people, singing songs and just supporting the players," Sajor said in an email interview.
Sajor said at the 15th minute he heard something similar to thunder. He asked his friend, Josef, if the noise was fireworks going off or if something was wrong with the sound system. The players continued to play and Sajor said the atmosphere in the stadium was similar to a party.
"When the game ended, my director for the program said we had to leave now and that something was happening in Paris," Sajor said. "With most of us without cellphones, we had no way to check the news. Once we got out we heard rumors of shootings in Centre Paris. We didn't know the extent."
Sajor said he started walking back to the metro with his group of friends when all of a sudden chaos broke out in the crowd.
"The third bomb at Stade de France initiated the chaos. People were crying, yelling and just scared. I lost my group so I was alone. I was running for my life," Sajor said. "I remember thinking of my grandpa, who I lost last year and I was asking him to watch over me."
Sajor is not alone in Paris Cal Lutheran students – Isabella Trangelo, Katrina Petty, Roman Valenzuela, Devon Meridith, Kayla Johnson and Nicole Ahlering – are all studying abroad.
"Upon learning about the situation in Paris, my office sent an email notification to our students in Paris and to all of our students studying around the world, in case they may be traveling in affected areas," Lisa Loberg, senior director of study abroad, said in an email interview. "We received confirmation soon after from our students and from their on-site program staff that all students in Europe were safe and accounted for."
Petty said the Cal Lutheran students have relied on each other for comfort and reassurance during this time.
"Studying in a foreign country is difficult enough, being so far away from family and everything we have known," Petty said in an email interview. "With the added fear from these attacks, it's important that we rely on each other, now and forever."
Loberg said since the attacks on Nov. 13 the Study Abroad Office has been in constant contact with the students in Paris. Counseling Services at Cal Lutheran are also on call for the students. Loberg said they are working with the students to provide them options to finish the semester in Paris or to return home early.
President Chris Kimball said, "[To the students in Paris] We are thinking about you and praying for you. Do what you have to do to stay safe and take care of yourself, your friends and colleagues. Whatever decision you make whether to stay there or come home, we fully support you."
Valenzuela who had a ticket for the soccer game but decided not to go at the last minute said in order to stay safe he remained indoors for the first 24 hours. He said this experience has brought the students together in a way they never would have imagined.
"We are all freaked out and it has impacted us. However, I believe that it has made us stronger as a CLU family," Valenzuela said in an email interview. "We are all here to support each other. A couple students are returning to the U.S. to be with our families, who are worried about our safety and just wish to be with us again." 
In response to the attacks, Facebook activated the safety check for users near Paris to let their friends and family know they are safe. The notification read "[Friend's name] was marked safe during Paris Terror Attacks." This tool allows users to check-in on friends during a crisis and provides an easy way to let your friends and family know you are safe. According to the Huffington Post 4.1 million people have checked in as safe using the feature on Facebook.
"The atmosphere in Paris is somber, there are military personnel and police officers on every street corner, monuments and buildings are closed indefinitely and no one says a word on the streets," Petty said. "In spite of all this we must carry on. We must continue with our lives and keep going to restaurants to show that we are in mourning, but we are not afraid."
These attacks have left a nation in mourning and the world in shock.
"Paris is known as 'The City of Light,' for 24 hours it was 'The City of Darkness,'" Sajor said. "The French people have started to come together, united and strong, and there's a glimpse of light coming back into this amazing city."
Drew Thomas
Editor in Chief
Published November 18th, 2015