'Under Fire' fuels veterans' stories
From Nov. 11-22 "Under Fire", an original play about combat veterans and their in-depth journey from boot camp to home will be performed in the Black Box Theater at California Lutheran University.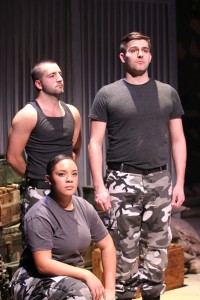 The inspiration of "Under Fire" was found within the very subject matter of the composition. Michael Arndt, a Vietnam combat veteran and drama professor, was the director and writer for "Under Fire."
"I wanted to communicate my experience with a contemporary audience, an audience that may not be as well informed on the subject," Arndt said.
As a veteran, Arndt ventured back to the locations and areas he patrolled as a soldier, which served as the primary source of inspiration for writing the piece. In addition he also relied on research, articles and other detailed stories of other veterans.
"My hope is that this becomes a way of creating dialogue between veterans of different wars and realize they share common experiences and hopefully feel less isolated," Arndt said.
The actors each represent a different combat veteran, telling their story just as they would but with just as much vigor. They symbolize different eras of war: WWI, Vietnam, Korean, Iraq and Afghanistan.
Each actor was able to put  his or her heart and soul into the stories they recounted, the memories of those before us.
The beginning of the play was that of what Western cinema has brought to us, a collection of young men and women who want to fight and possibly lose their lives for their country.
However this image turns bleak as the actors  realize the harsh realities of war. They begin to become familiar with death and the clutches it has on them and their friends.
Along with stories from their lives, the characters told the audience about the miserable conditions a soldier faced back home in the United States or in combat.
"It makes you really appreciate what they've gone through. I have a much better sense from not only performing in this play but from personal accounts told to me," junior actress Cecilia Lindgren, said.
Along with Lindgren, many other actors behind "Under Fire" have a military background that serves to motivate and compel them to deliver their lines with as much fervor as they can muster.
This was especially true of junior actor Gabriel Geesey. Both his father and grandfather served in the military. Auditioning for the play and landing a part motivated Geesey to pursue serving in the military.
"Doing this play has actually made me contemplate joining the military a lot, and that is something that I have really been thinking about," Geesey said.
First hand experience is something that cannot be reproduced, however if there is a way to transmit these ideas, it seems this is a very effective vehicle.
Because this configuration combines both personal accounts from home and on the frontline, this structure or template can be utilized to tell the stories of countless other veterans.
Connor Mckinney
Staff Writer
Published November 18th, 2015