After four years of waiting his turn, senior quarterback Michael Butler was finally set to step into the starting quarterback role for the Kingsmen this season. Unfortunately, during the first game against Pacific Lutheran University, Butler tore his patellar tendon. Despite having surgery several days after the injury, Butler would not be 100 percent until after the season.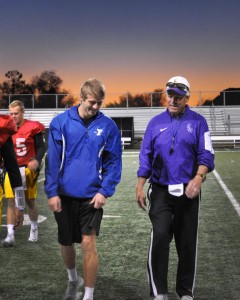 "At the time of the injury and the days following, it was devastating. I worked all this time and spent hours during the summer and spent hours that other guys weren't doing," Butler said. "I was trying to go that extra mile to prepare myself for the season. For it to happen not only this season, but the very first game, it was very unfortunate."
His teammates were affected by the loss of their starting quarterback as well.
"Mike's injury, more than his role as a leader on the field, was a blow to morale. Anytime you lose a starter it takes a toll on everyone's mind," senior fullback Nick Ruiz said. "We just lost one of our best guys. When you lose your starting senior quarterback, it really hurts."
Butler had a long football career. He played four years at Mountain View High School and was recruited by Cal Lutheran where he is one of seven players that has played all four years. Butler was elected as captain by his coaching staff and teammates.
"Being a quarterback you kind of have to have that mentality even when you're not a captain, so for the first three years I did everything that I could to exercise those type of leadership qualities. Being elected captain was an honor," Butler said. "Not being there for the team physically is very tough."
Butler's senior teammates admire his qualities and contributions to the team. Senior wide receiver Trever Wood worked with Butler over the summer to ensure they had proper communication and chemistry on the field.
"Mike played many roles on and off the field. Being on the team for the fourth year, he knew what the coaches wanted," Wood said. "He knew the offense inside and out. He knew the players that he could trust to do their job and he would help teach the new guys what they needed to know to be successful."
After his injury, Butler continued to contribute to the team as a mentor and provided coaching advice.
"Once Mike was able to walk again, he put on the coach's hat and polo and became a great sideline leader. Obviously there is not a lot he could change physically at that point, but he was able to be an asset to the team, making us better as he himself was being treated to be better," senior punter Jack McFarland said.
In addition to being a sideline leader during games, Butler helped motivate the team during practice as well. 
"Mike was a vocal leader.  He helped set the mood for practices and games by getting excited and getting guys hyped up.  While having fun on the field, Mike was also able to remain focused and calm in the right situations," senior running back Ben Chavez II said.
Aside from admiring his football knowledge and skill, the Kingsmen spoke highly of Butler's character.
"Mike is one of the most lovable, trusting, inspirational and energetic [people] you will ever meet. If you let him, he could probably inspire you to do something you never thought was possible, like scuba diving or climbing Mount Everest," McFarland said.
His experiences, leadership qualities and relationships with his teammates have led him to explore a career in coaching.
"[Football] has helped me realize the importance of leadership qualities and the importance of a team. It's helped me stay disciplined. It's shaped the person I want to be," Butler said.
In his four years at Cal Lutheran, Butler has impacted the football team both on and off the field.
"Mike is pure, unbridled happiness and energy," Ruiz said.
America Rojas
Staff Writer
Published November 18th, 2015