Concert brings community together
California Lutheran University hosted the annual Christmas festival concerts in the Samuelson Chapel that kicked off  on Dec. 4. The Cal Lutheran choral ensembles and the University Symphony held four concerts from Dec. 4-6. Wyant Morton, conductor of both the CLU Choir and Women's Chorale,  is in his 24th year at Cal Lutheran.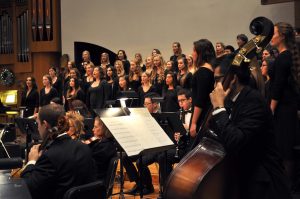 "There's always been a tradition of the Christmas concerts and it's grown and grown over the years. They used to do them in the old gym which is now the theater arts building," Morton said.
The festival concerts have been held in the Samuelson Chapel since its addition to the university in 1990. 
After the addition of the Samuelson Chapel in 1990, the festival concerts have been held in chapel, decorated with lights, Christmas trees and wreaths.
"The visual element of this concert is really important too so I want to make sure that I give credit to pastor Scott Maxwell-Doherty because he organizes all of that," Morton said.
People filled the seats an hour before the concert on opening night and the University Symphony began with solo violin performances by Melissa Walker and Michele Da Silva.
"It would have been like 18th century rock 'n' roll. [Bach] composed a lot of things like that and this is one that has lasted and has been played by every big time violinists all over the world for centuries," University Symphony Conductor, Daniel Geeting said about the piece performed by Walker and Da Silva.
CLU Choir's first piece of the evening was "Ave Maria," which was followed by a carol for the audience where everyone was invited to sing "O Come, All Ye Faithful" together.
Linden Gray-Reneberg is a member of the choir and the Regals Quartet that performed a holiday jazz mashup.
"My favorite part about the Christmas concert is seeing how happy it makes the audience. They always show how appreciative they are. It's an annual favorite for many people," Gray-Reneberg said in an email interview.
According to Morton, the CLU Choir composed with mostly junior and senior males and females rehearses five hours per week and the women's chorale rehearses two hours per week.
"There are about 86 singers and all of those collectively put in hundreds and hundreds of hours," Morton said.
Nearly 2,500 people typically flow through the Christmas festival concerts throughout the weekend, listening to vocals that have been rehearsed for approximately six weeks.
"It's one of the biggest events on campus other than graduation and homecoming," Morton said.
One key difference between the choir and the symphony is the fact that the symphony in made up of students and community members and the choir is strictly students.
"It's really a group effort and we've all become like a little family," Gray-Reneberg said.
Opening night, the chapel was filled with Cal Lutheran students, family, friends and people from the community.
"It's a concert but it's also very thematic of advent and Christmas so it's not really a worship service but it certainly has elements of that in it," Morton said.
Katy Lindor
Staff Writer
Published December 9th, 2015