Bouncing back from injury
Katie Kochalko, senior swimmer at California Lutheran University, inspired her teammates through her perseverance after her injury.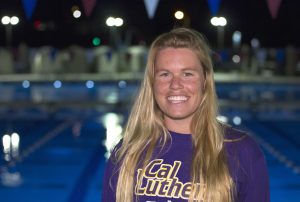 A torn ACL can be an extremely scary diagnosis for any athlete. It can be a career ending injury for some. Other athletes return to their sport, but never perform at the same level of competition. However, there is a rare breed that fights through the adversity and return to their sport stronger, motivated and on a mission to succeed.
Kochalko had a strong start to her swimming career at Cal Lutheran prior to her injury. In her freshman year of competition, she earned her first appearance in the Southern California Intercollegiate Athletic Conference finals. She swam a preliminary time of 2:12.46 in the 200 IM (individual medley) to earn the eighth seed heading into the finals. She would finish one spot away from earning All-SCIAC honors in her debut season for the Regals to cap off a successful freshman campaign.
Unfortunately for Kochalko and the rest of the Cal Lutheran women's swim team, the Encinitas native would tear her ACL prior to the 2013-2014 season.
"I had a lot of motivation to get back for last season. I wanted to prove that I could get back into shape and perform like I did the previous season," Kochalko said. "I also think the injury gave me a chance to rest. This gave me the opportunity to come back a little more rested and stronger."
Kochalko would prove to live up to her word during her junior season. She served as a team captain for the Regals. She set a new Cal Lutheran record in the 200 IM with a time of 2:11.14 and qualified for the championship final at the SCIAC championships. She placed first in the 200 fly consolation final and placed well in the 200 free.
"To our team, I think Katie is the perfect leader. She is so approachable and as an iconic swimmer on the team, definitely someone for the younger girls to look up to. Since day one she was smiling and yet to this day I never go a day or practice without seeing the same smile," sophomore swimmer Katja Lindfors said. "Her perseverance and consistency in the sport is amazing and I really look up to her. Honestly, I don't think I could handle swimming without having Katie as a teammate, but more importantly as a friend."
Kochalko is the only senior on the roster for the Regals and plans to lead her team to success in the 2015-2016 season. She has already clocked the fastest time on the team for two events in the first two meets of the season. The young Regals team possesses a great deal of talent and potential to look forward to for the years to come. Kochalko is the type of leader to build a young team around.
"She does a good job at encouraging the team and she's also really funny, which really helps during a difficult workout. She's been our team captain for two seasons now and I think she does a pretty good job of bringing us all together and making us feel like we're a team," sophomore swimmer Rachel Defilippis said. "Katie really showed a lot of leadership and helped our small team bond, which created so many of the close friendships I have today."
Clearly loved by her teammates, Kochalko hopes to have a successful senior year in and out of the pool. The exercise science major is dedicated to her sport as well as her studies in her final year at Cal Lutheran. You can watch Kochalko and the rest of the Cal Lutheran swim team when they travel to Caltech on Dec. 12.
Jeff Rebello
Staff Writer
Published December 9th