Do you have what it takes to be an RA?
Interest sessions for being a resident assistant on campus were held for prospective students starting Jan.  29. Andy Hanson, Coordinator for Residence Life and Student Conduct, and current RA's Amanda Hutchinson and Karly Loberg discussed the selection process of becoming an RA and what it takes to do the job.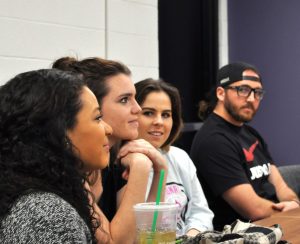 Hanson said in the initial selection procedure that students attend an interest meeting to get an overview and sign up for the follow-up application that further explain phase one and phase two of the process.
The first step in phase one includes an application, which "involves a written portion to respond to a few introductory questions, information like how to contact a candidate and their planned involvement for the following year, and a reference section," Hanson said.
The next step is the initial interview and group process. The interview is "our first chance to hear directly from the source what a candidate's intentions are in applying and what they bring to the table," Hanson said.
Hansen said the group process gives the opportunity for the staff to also see how candidates behave in a group dynamic and assess their team-building skills.
Phase two of the process is the final interview. Each candidate interviews with all Graduate Resident Directors and coordinators, where they "ask clarifying questions and further in depth questions to understand more about each candidates qualifications," Hanson said.
Once the student has received the position, there are certain requirements they are expected to uphold.
Each RA is expected to host six programs that have a focus point, such as goal-setting or service and justice.
"It builds community in the halls. I did a service program where I had residents do a clothing swap and then the rest of the clothes that didn't get swapped were donated to a local clothing drive," sophomore RA Hannah Karzin said.
Karzin said it's a great way for residents to get out of their rooms and meet new people. It's a great way for RAs to get to know their residents.
Freshman Sophia McCarty said she'd love to be an RA to "get more involved and meet new people."
The job also requires a time commitment. Senior RA Amanda Hutchinson said that part of an RA's responsibilities includes "duty nights" one weeknight each week from 7 a.m. – 7 p.m., as well as some weekends. It is the job of an RA to make sure everyone is safe and to "be a resource for students to come to," Hutchinson said.
"I lived with an RA my freshman year and she made such a positive impact on my life and I want to be that person to somebody else," sophomore Amanda Slider said.
The fish-bowl theory involves the idea that as an RA, everyone knows it and they are aware of your actions. Senior RA Karly Loberg said that as an RA people look up to you, almost like an older sibling. It's an "opportunity to be a positive influence," Loberg said.
Karzin said it's about following policies on and off campus and setting a good standard for other students.
Hutchinson said other aspects of the job include an $8,000 credit to your student account, which can be applied to pay your semester's tuition or housing. If there is more than enough credit in the account due to scholarships and financial aid, the business office refunds the extra funds to RAs.
Hanson said there is also a minimum 2.5 cumulative GPA requirement that all RAs are expected to maintain.
Looking into the future, being an RA helps you "learn a lot of communication skills, how to avoid or solve conflict and confrontation and you can network with people," Karzin said.
"Being an RA is incredibly rewarding and it challenges you to be a better person," Karzin said.
"You learn many transferrable skills from relationship building and working with difficult situations, to meeting deadlines and developing meaningful initiatives.  Regardless of the field you're going into, skills earned as an RA will aid in preparing you well for your career," Hanson said.
Hanson said RAs make the university feel like home because they want students to feel welcomed, included, appreciated and loved.
Rebecca Austin
Staff Writer
Published February 3rd, 2016