Renn-ovating the multimedia experience
A recent alumnus, Eric Renn, is now on the other side of the podium. As a 2014 graduate, he got a call from professor Daniel Restuccio asking if he had any interest in teaching a multimedia class in the fall. With some hesitation, Renn agreed and before he knew it, his teaching career had begun.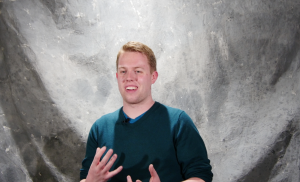 Renn said he grew up working on computers and he had a strong interest in technology.
"I had a lot of teachers that were especially influential and they used a lot of computers and all kinds of technology in the classroom," Renn said.
As he progressed through school, it became clearer that multimedia was his passion. He continued this dream and ultimately got his degree in multimedia with an emphasis in visual effects, motion graphics and animation. To top it off, he added a minor in both art and political science.
With no teaching experience and being a recent graduate, he felt nervous to step up and fill the open teaching spot.
"With a little bit of encouragement from Dan [Restuccio], I decided to do it and I've enjoyed it," Renn said.
The tables have turned for more than just Renn, as previous teachers of his are now his coworkers.
"He was a great student, very energetic [and] very knowledgeable," professor Timothy Hengst, one of Renn's previous professors said.
"He was a great student already, so I think it was an easy transition. As a student, he was always very professional in his work and responsible in everything that he did," Hengst said.
When Renn was deciding on a college, he said he liked the idea of small class sizes.
"My junior year of high school, I took an off-campus class learning animation and there were 14 students,"Renn said. Having the one on one time with the teacher, and just being able to build a relationship with the teacher, I really liked that."
Though cliché in his mind, his favorite thing about  Cal Lutheran was how friendly everyone was. Now as a professor here, Renn finds it helpful to be surrounded by familiar faces with a great staff that is more than willing to answer questions.
For example, according to Hengst, he meets with Renn on occasion to see how his classes are going and they try to coordinate their lessons in order to prevent much of an overlap.
Renn said he was able to work with the current Morning Glory art director and editor to share his knowledge of the software and process from his days in that role for the literary magazine.
In an email interview, Tori Dahl, fellow classmate and Morning Glory student said this job put Renn's multimedia skills to a test. He was in charge of 60 or more pages worth of layouts, gathering art submissions, whittling down the selections, matching art to literary pieces and much more.
"Eric has a definite eye for this work and I was amazed at the beautiful combinations he created seemingly effortlessly," Dahl said. "As art director, Eric kept on top of his workload and communicated well with the editors and Dr. Wines, the faculty advisor, to ensure that the magazine was continually progressing and would be completed on time."
Along with teaching three classes in the spring semester, Renn is a freelancer in his multimedia field. Between his commute to work and adding more classes this semester, Renn has kept very busy.
Though he was surprised and hesitant at first to accept this new challenge, Renn said he has enjoyed the experience as a professor.
Makenna Pellerin
Staff Writer
Published February 3rd, 2016