Kingsmen volleyball kicks off inaugural season
Just as California Lutheran University students started new classes this semester, the university also started something new of its own. Men's volleyball has officially become a part of the NCAA sport programs offered at Cal Lutheran.
The thought to have a varsity men's volleyball program at Cal Lutheran has been in the works for some time now.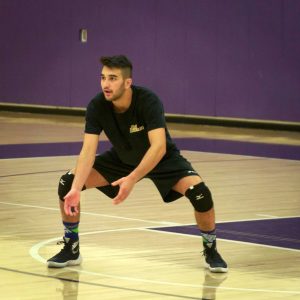 "It's been a five year plus grind of trying to make it all come to fruition," Head Coach Kevin Judd said.
The first step was to stop the men's club team, the Knights, in order to put a varsity program at the forefront.
"We just kept pushing and pushing, saying we needed to have a men's volleyball program here," Judd said.
That call came last November when Judd was traveling with the women's volleyball team.
"They hired me right after Christmas and the rest has just fallen into place," Judd said.
Once the program was established, finding players and creating a schedule became a priority. With the only other Division III men's volleyball program in California being UC Santa Cruz, it means a lot of traveling and tough opponents for the Kingsmen.
"I built a pretty difficult schedule for our guys. We are going to be playing six of the top 15-20 teams in the nation," Judd said.
Their schedule also includes two cross country trips, one to Ohio and one to New York.
"The hope is that with SCIAC, we will have these other schools jump on board with men's volleyball so that we don't have to travel as much," Judd said.
The other challenge presented was recruiting players to come.
"It just wasn't known that CLU was starting a men's volleyball program," Judd said. "As much as we tried to go out and show our face and say it's happening, it's still a big risk for these players coming to a new program."
One of the players willing to take that risk was junior outside hitter Kristian Gallarado, who transferred from Division II McKendree University.
"The reason CLU became my first option to transfer to is because my best friend Ryan Svean has gone here for two years and I have heard nothing but great things about the school," Gallardo said. "So when he told me about the men's team that was being created I knew I had to jump on board."
Joining Gallardo is a team of 16 players, ranging from freshmen with little volleyball experience to juniors and seniors already enrolled at Cal Lutheran who decided to tryout.
With the women's volleyball team coming off a Division III National Championship, there is no better time for a men's volleyball program to start.
"I think it's nice to have the push of them winning the national championship behind us, it gives us something to fight for. All of the guys got a little taste of it so you can bet that we are really hungry for one too," Gallardo said.
The men's players were all huge supporters of the women's team this past season, and the women look forward to returning the favor.
"The guys played a big role in our success this past season and we hope to do that for them too," sophomore libero for Regals volleyball Daniela Gonzales said.
Belonging to the first team in a program's history is something many Cal Lutheran athletes will never get to experience.
"Being a part of the group that gets to create a foundation for a program is awesome, we get to set a standard and create traditions that all players, coaches and fans will see down the road for years to come," Gallardo said.
The Kingsmen return home on Feb. 5 to face off against Moorpark College at 6 p.m.
Coral Hasley
Staff Writer
Published February 3rd, 2016