Kingsmen look to avenge bitter ending to 2015
The California Lutheran University baseball team has its eyes on one thing this upcoming 2016 season – winning a national championship. A feat that would be the first in the university's storied baseball history.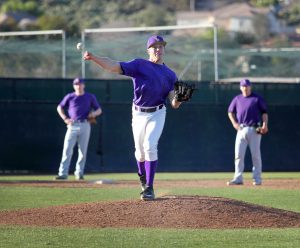 The Kingsmen ended last season in heartbreak fashion. After winning a third consecutive Southern California Intercollegiate Athletic Conference regular season title, the team lost in a pivotal Game 7 of the SCIAC Tournament Finals to La Verne. Although the Kingsmen's record was good enough for an at large bid for the regional tournament, the NCAA Committee didn't select them, a  decision that is engraved in the team's mind.
Junior pitcher Tyler Nevins sees the end of last season as something that the team can use as motivation. He said he believes it has brought the team closer together.
"Being snubbed has made us even more anxious to start this season off well," Nevins said.  "The camaraderie level has united our team as we all share the same goal of winning a national championship."
To avoid a fate similar to last season, Cal Lutheran strengthened its scheduling. The team will set out on two tough out-of-state tournaments.
"The strength of schedule is one of the main criteria for you getting into regionals," said Marty Slimak, who is headed into his 23rd year as head coach. "Last year we had a really good record [32-12] but we didn't get in because our strength of schedule was just underneath the team that beat us out."
Slimak is also hopeful that the highly competitive out-of-state tournaments will serve as preparation for what the team may face in what he hopes is a long season.
"When we go out of state we try to play the best possible teams," Slimak said. "And ones that will also have really high strength of schedule."
Although the program has high aspirations for this season, it all begins with league play. In order to even get a chance to make regionals and compete for a National Championship, the team must first win SCIAC and the conference tournament.
"Our first goal is to win our conference and that has got to be our number one goal," Slimak said. "If you win your conference and tournament you are automatically in."
The SCIAC conference is highly competitive. The  nine-member league has been steadily improving each year. Currently, it seems there are three teams in particular that appear to be the biggest threat to ending Cal Lutheran's three-year reign as regular season champions.
"The three biggest challengers in our league would be Redlands, La Verne and Chapman," Slimak said.
Offensively the Kingsmen are hoping to lean on their experience. This year the lineup is headlined by a three-headed monster of senior infielder Davey Casciola and senior outfielders Justin Caña and Ramsey Abushahla.
Slimak expects the trio to carry much of the offensive load this upcoming season.
"Offensively they are going to have to carry us," Slimak said. "If those guys lead the way and set the table we will be very good."
On the pitching side of things Cal Lutheran has some young arms mixed with some experienced ones. The staff is led by senior right-handed pitcher Landry Kiyabu, senior left-handed pitcher Mitchell Shields and sophomore right-handed pitcher Nate Wehner.
Billy Davidson, Ventura College standout and recent Cal Lutheran transfer is eager to join the staff and make an impact.
"I'm excited to be able to be out on the field everyday with a great group of guys," Davidson said. "We all want to win and bring home a National Championship."
Cal Lutheran will begin its quest for a first ever national championship on Feb. 5 at 2 p.m. when the team hosts Whitworth.
Conference play for the Kingsmen begins on Feb. 26-27 with a series against SCIAC foe Chapman.
Andrew Davies
Staff Writer
Published February 3rd, 2016