Promises and enticement of free yogurt had students lining up outside the Oaks Mall at Menchie's Frozen Yogurt on Feb. 5 for Associated Students of California Lutheran University Government's first drop-in event of the year.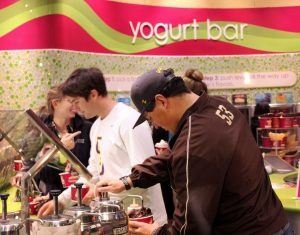 The event offered the first 150 students a free cup of frozen yogurt and toppings, which lasted from 7-9 p.m.
ASCLUG Programs Board member Andres Elvira led the drop-in. Elvira planned, set up and arranged the details with Menchie's ahead of time and organized the bulk of the drop-in.
"We had the budget set aside for an event like this," Elvira said. "At first we had the budget, but we didn't have a time or a place. Menchie's was a good option because it was local." 
According to Elvira, the yogurts were all weighed on a single computer as one big transaction, which Programs Board paid for at the end of the night.
"[Menchie's] was super accommodating," Elvira said.
Students waited in line and were allowed into the store in small groups after being checked in by ASCLUG members at the entrance. Cal Lutheran identification was required.
"I think it's awesome, I love free things," junior Casey Kornmaier said.
The line rounded the edge of Muvico Theater. It was clear many students came out to participate in the event.
"The turnout was really awesome, we'll probably do this again in the future," Elvira said.
Programs Board Director Amber Trujillo said these events provide students with an opportunity to hang out, meet people and eat free yogurt.
"These events are something fun you can do with your friends," Trujillo said.
The Menchie's drop-in event proceeded events such as ASCLUG's Night of Mayhem and Cosmic Bowling. Trujillo said this was a smaller scale event.
"We do try to plan a variety of types of events throughout the semester," Trujillo said. 
Elvira said the events are also geared towardsbuilding community within Cal Lutheran.
"It's more than just having students come and get free stuff, it's having students come out and meet each other," Elvira said.
"I think it's good when we do this because a lot of people we might not see everyday because of classes or other clashes with your schedules, you get to see them and hang out outside of school," sophomore Zakiah Harris-Jackson said.
Elvira said the event has also helped a few students become more acquainted with the surrounding area in Thousand Oaks.
"It's pretty successful. We always have a big crowd for these things and it's great to see students coming out and supporting it," Trujillo said.
Rebecca Austin
Staff Writer
Published February 10th, 2015