California Lutheran Uni-versity's Study Abroad program is considered amongst students to be one of the best experiences of their lives.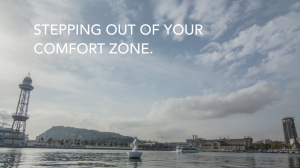 Studying abroad gives students a chance to experience life and culture that is different from their own. Initially, a common response to studying abroad is a culture shock. Even though experiencing another culture can be daunting at first, students grow to develop an appreciation for the place they choose to study abroad in.
"I was very confused and I didn't understand what they were doing, but as I spent my four months in the culture I grew to understand it and appreciate it so much more than I ever could've reading a book or just going there for a week. I really understood their way of life and why they lived like that," Katrina Petty, a junior student who studied abroad in Paris, France said.
Being away from family and friends can also make students hesitant about studying abroad. However, students develop more independence and self-confidence through surviving any challenges they are faced with while being away from home.
"The pros include the self-confidence students get from going overseas, the sense of independence navigating challenges and feeling successful about overcoming, you know, maybe getting lost in the metro and figuring it out. Those things are scary in the moment but then students kind of say 'oh I can handle this,'" Lisa Loberg, the director of the Study Abroad Programs said.
"It was just an amazing experience. I was able to grow so much that was otherwise impossible on campus in my opinion. I was able to live in a different country whose language was not my own and survive and experience it in a more immersive way than just traveling there for a week or two," Petty said. "I was able to meet people who I never have come across in my entire life and now we are lifelong friends."
In addition to acquiring more self-confidence, students meet new people and make many new friends while studying abroad.
"I met a lot of good friends. I joined the field hockey team there. I never played before and actually scored a goal. I made a lot of friends through that," Lauren Parker, a student who studied abroad in London, England said.
The student life overseas is greatly emphasized, so students can interact with people and fully take advantage of the opportunity to meet other people that live a life that is different from their own.
"Student life was incredible there. We had a pub on campus, so every Friday night they would do a different club theme. They had a lot of charity events and other stuff like that too," Parker said.
Studying abroad not only gives students an exciting educational experience, it also allows students to add it to their resume and have talking points during job interviews.
"Students who have studied abroad, their conversation changes and the world kind of opens up to them," Loberg said.  "On the career side, if students are in competition for a job and the person who they're competing with maybe hasn't studied abroad, think of the kinds of things that student's interview can then have, like 'I spent a semester in Sydney, Australia and I learned all of these things.' Just that talking point alone can make or break a job interview. It also looks great on a resume."
If students are interested in studying abroad over the summer or during the fall semester, applications need to be submitted by March 1.
Sarin Goncuian
Staff Writer
Published February 10th, 2016