Jeremy Sulker-Hall: Back and better than ever
The Kingsmen basketball team has many standout players, but graduate student forward, Jeremy Sulker-Hall, has come back from his year off and is leading the way for his team.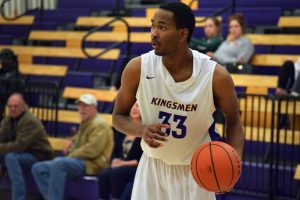 Sulker-Hall is no stranger to the Cal Lutheran basketball program.  After his senior year he decided to take a year off to work, and now he has returned to California Lutheran University for graduate school and to use his last year of athletic eligibility.
Although Sulker-Hall was not committed to the game of basketball during his year off, it did give him a chance to become more of a student of the game.
"Mentally, it gave me a chance to reevaluate the things that I needed to work on; things I could do coming into the season," Sulker-Hall said.  "I think I'm [more] well-rounded now."
Kingsmen Head Coach Rich Rider has been here since Sulker-Hall's first year as  a Kingsmen and has seen the young man mature as a basketball player.  This maturity has been more prevalent to Sulker-Hall's teammates since his  return.
"He is much calmer, plays with much more confidence, and has turned out to be a very, very effective player," Rider said. "This has helped him become one of the team's major scorers this season."
Not only do Rider and Sulker-Hall believe that his year off has helped him on the court, but his teammates do as well.  A year off has allowed Sulker-Hall to grow his skill set and turn him into a powerhouse player this season.
"I would say Jeremy is definitely one of our best players.  He's our go-to option offensively. We run a lot of sets through him," junior center Curtis Opsahl said.  "He is very talented and very skilled."
With a wide variety of talents, Sulker-Hall was the perfect addition to have back on the team. However, his demeanor in addition to his skill set provides an added dimension to his game. 
"I think what makes Jer really really good at basketball is that he is super calm all the time. His emotion never changes, it helps him become a better player," senior point guard Dan Wade said.  "A lot of the time he helps me out when I'm frantic on the court.  I know I can look and just see Jer chilling and know it's all going to be OK."
Sulker-Hall said he believes that the growth he experienced during his year off has allowed him to bring certain traits he learned in a working environment to a team that was previously lacking those aspects.
"I think that despite whether things are going our way or not, I have a good work ethic and  that work ethic allows me to do my best to contribute whatever way I can, mostly being on the defensive end," Sulker-Hall said.
Being the oldest player on the team, Sulker-Hall is looked at by many as a leader, another aspect he has gained from taking a year off of school and maturing.
"I am not the most vocal leader, but I think that my actions kind of speak louder than what I have to say," Sulker-Hall said.
His leadership has resonated well with his teammates.
"He is a pretty good leader on the court. He keeps everybody's head in the right space," Wade said. 
Sulker-Hall's hustle and commitment speak for themselves and give room for others to follow.
"As a leader he's pretty serious but also lighthearted. He never takes anything too seriously but never goofs off too much," Opsahl said.  "He is just really easy to relate to and that's a great trait as a leader of a group of guys who are all different and have all different ages. It kind of helps unite the team."
Sulker-Hall said he enjoyed his year-long break.
"It's always nice to get back to being fresh," Sulker-Hall said.
As Sulker-Hall's last season comes to an end, he is continuously making strides and showing how great of a player he has become.
Dean Hendrix
Staff Writer
Published February 10th, 2016