Kingsmen falter in opening weekend
California Lutheran University's baseball team had a rough start to the season after losing the first two games on opening weekend.  The Kingsmen fell 8-2 against the Whitworth Pirates on Feb. 5 and then surrendered another eight runs to the Westmont Warriors the following day, losing 8-3 at home on George "Sparky" Anderson Field inside Ullman Stadium.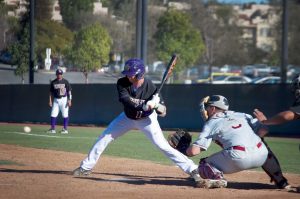 Despite the Kingsmen's 0-2 start, the Kingsmen remain optimistic and have high hopes for the upcoming season. 
"We're a good team, and we have huge expectations. We didn't adjust and we didn't make the necessary changes to put numbers up on the board. Our offense is our biggest strength and nine hits in two games is unacceptable," senior third baseman Davey Casciola said.  "We have to be more consistent throughout the game. We need to get better overall, but I know we will." 
Casciola recorded the first hit and scored the first run of the season for the Kingsmen against Whitworth Friday, but the Pirates' offense ultimately prevailed that afternoon.  The Pirates lit up the scoreboard and six of Cal Lutheran's pitchers, totaling eight runs and 14 hits and devastating the Kingsmen at home.     
After dropping the season opener to Whitworth, the Kingsmen faced the Westmont Warriors and struggled early in the game.  The Warriors tallied four hits and tacked five runs onto the scoreboard in the first inning and would add another run to their lead in the top of the second.
Cal Lutheran trailed the Warriors 6-0 entering the bottom of the second inning, but the Kingsmen fired back with three hits and three runs as Casciola and freshman first baseman Weston Clark led the inning with back-to-back singles.  Junior outfielder Gabe Gunter later drove Casciola with an RBI groundout.
A Westmont error allowed junior shortstop Austin Kay to reach first base and Clark to score the second run for the Kingsmen. Senior outfielder Justin Caña then singled to right field and bringing Kay around to make the score 6-3 heading into the third.
However, the Kingsmen failed to score another run throughout the remainder of the game.
"We came out really flat and got beat from the first pitch. We have to prove we're ready to play from the first inning.  We have to improve on every aspect of the game. We could do better hitting.  We could do better pitching.  We could just do a better job all around," Head Coach Marty Slimak said. "We just got beat everywhere. Everything went wrong and it was not a good game for us. Obviously, we didn't want to start the season this way." 
The Kingsmen look forward to a new season with new teammates and they are hungry for a title.  They want to honor this year's seniors, and what better way to commemorate their veteran players than to bring home a pennant.   
"Our team has a lot of great talent, and we have a lot to show for it. Our pitching was off and on this weekend, but we do have a good pitching staff.  It's a young staff, but they are getting more experience every time we play," junior right-handed pitcher and catcher Trey Saito said. "Losing in the championship game last season was a real heartbreaker.  Now, we use that as motivation to keep pushing and driving us forward to bring home a title for the team and definitely for our seniors."   
Tate Rutland
Staff Writer
Published February 10th, 2016