CLU's Young Life helps hearing-impaired kids in Mexico
Going to any new country that speaks a different language may  be a scary feeling, especially when the language barrier is doubled. California Lutheran University's Young Life took student volunteers to Rancho Sordo Mudo, a low-income Christian boarding school located on a ranch in Ensenada-Tecate, Mexico, to experience the language barrier over Presidents' Day weekend.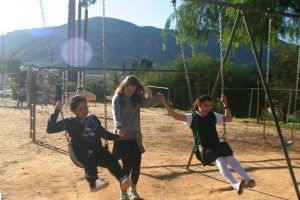 However, it is not just the language of speaking Spanish that the Cal Lutheran students may struggle with, it is also MSN, which is Mexican Sign Language.
The Rancho Sordo Mudo boarding school has hearing-impaired kids ranging from 5-18 years old.  Young Life helped with gardening, cooking, spending time with the kids and with anything the school needed assistance with.
Even though it may sound like an easy weekend, there are obstacles that students who attend the trip deal with, according to Nisha Kondrat, the president of Young Life.
"It's really hard, especially the first breakfast sitting down because you can't really communicate with them. Some can write in Spanish, so we do that but it is a fast pace learning their language and learning how to communicate with them but you find ways to communicate with them," Kondrat said.
The language barrier may be a difficult obstacle but that does not discourage those who go to have a life changing experience.
"It was life changing because I was able to appreciate more what I have and the things that you do at the ranch makes a huge difference for the kids whether it is playing, or just eating it's a great experience and I really recommend it," Jennyfer Astorga, a student volunteer on the most recent trip.
For four days the volunteers not only played with the kids, but they made bonds and friendships too. The students who attend the boarding school get little to no interactions with the outside world, but having volunteers who are looking to make a difference in these kids' lives makes a huge difference to them.
"One of the kids was surprised about the number we brought with us this time and that was his favorite part of it, and how the groups keep getting bigger and bigger, and that their ranch-organization is being heard by others and that they have someone new to play with on the playground," Kondrat said.
Something as simple as playing soccer makes the children's days and forms relationships that some may not believe were even possible with the language barriers.
One part about the trip that many people may not realize is that it is available for anyone. It doesn't matter whether you're religious or not. Even though the trip includes prayer and attending mass, it is not the only focus of the trip. Anyone can apply to attend if he or she desires to do so. The true mission of the trip is to help those who are less fortunate and give back.
"The whole Christian aspect is not huge even though the ranch is Christian based, but most of what we do is for the community. But for someone who is not Christian, it is not uncomfortable because we have a lot of Christians go," Natalie Elliott, a student volunteer on the most recent trip said.
The most recent trip had 28 student volunteers attend and with numbers growing, it is getting more difficult to reserve a spot for any student who may want to attend.
The next available trip will be in the fall. Young Life currently has to turn students down due to their high numbers of volunteers. For those who are interested, contact Young Life on the Cal Lutheran website.
However, if anyone is passionate about wanting to help out but cannot make the trip, there is still a possibility to participate by donating to the list that Rancho Sordo Mudo gave to Young Life. The list includes school supplies, food and clothes. Each semester there is an opportunity to attend this trip and make a difference.
Alec Sprague
Staff Writer
Published February 24th, 2016