Amanda Hamilton: Triple jump for joy
The California Lutheran University track team is off to the races behind the leadership of senior All-American Amanda Hamilton. High goals are set for Hamilton as she competes in her final season wearing violet and gold.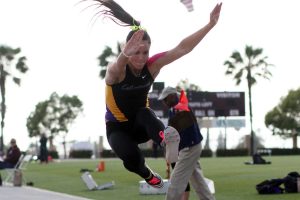 "She is a fierce competitor and has that killer instinct that you can't train," Head Coach Matt Lea said in an email interview.
Hamilton competes in a wide variety of events for the Regals.
"She can do anything from the 100M, 200M, 400M, triple jump, 4x100M relay and 4x400M relay," Lea said.
Hamilton finished last season competing at the National Championships after battling through injuries throughout the year. Lea said he believes that Hamilton is in the best shape she has been in all four years and with hopes of a healthy season, she could have a very special year.
"My parents started throwing me into random [sports] and my dad actually did track all through high school, so that was one of the things I did that just stuck and I just fell in love with it," Hamilton said.
After finding her passion, Hamilton began looking at colleges and picked Cal Lutheran because of its track team and for the small school aspect.
Hamilton shattered the record books from the first year she set foot in Thousand Oaks, setting the school record in the triple jump and finishing ninth at the NCAA National Championships on her way to All-American honors.
Her sophomore and junior season followed in similar footsteps, breaking more records and raking in more awards both in academics and track.
"I just want to make the best of it, see what I can do and really just take advantage of this last year," Hamilton said.
With a young roster, Hamilton and Lea hope to see a lot of growth in the team this season.
"We have a lot of talent and the dedication this year is so inspiring," sophomore sprinter Teigan Schentrup said. "Having Amanda as a teammate is like having my big sister run with me. She's always been so encouraging and optimistic for everyone on our team,and it definitely doesn't go unnoticed."
However, Schentrup views Hamilton as much more than just a great leader. If Schentrup could describe Hamilton in just three words, she said she would choose respectful, determined and passionate.
"Amanda is definitely one of those one of a kind athletes that don't come around all the time," Lea said. "She is always working extremely hard so that she can better herself in every way possible."
Hamilton said she is most excited to compete in the triple jump and relays. She looks forward to facing Claremont McKenna College and La Verne University because they are at the top of the Southern California Intercollegiate Athletic Conference, especially for the relays.
"This year just feels different, I don't know if it's my last year, I just feel so much closer with all my teammates," Hamilton said. "Everyone just really jells together and it's much more cohesive than it has felt in previous years."
Makenna Pellerin
Staff Writer
Published February 24th, 2016