Music professor retires after 32 years at CLU
An organ concert to honor Daniel Geeting, who has a doctorate in musical arts, for his 32 years of teaching and service at California Lutheran University, was held at the Samuelson Chapel on Feb. 26.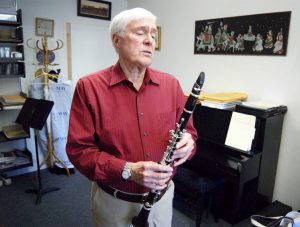 Geeting has taught music appreciation and music history at Cal Lutheran for the past three decades. He is also the conductor of the University Symphony.
"It is very humbling and I am very grateful that they would take the time to honor me," Geeting said. "It was a total and complete surprise."
The Orvil and Gloria Franzen 2015-2016 Organ Program Series/ Daniel Geeting Honorary Concert will be headlined by internationally acclaimed organist Pamela Ruiter-Feenstra.
Kyle Johnson, who is the coordinator of Chapel Music and the concert, has known Geeting since the time he arrived at Cal Lutheran nearly five years ago. 
"Dr. Geeting has always been a big supporter of the organ program here," Johnson said. "I don't think he has missed an organ concert once since I have been here."
The blood, sweat and tears Geeting has given to the university has not gone unnoticed by the other members of the Cal Lutheran musical department.
"This year it only seemed right to honor Daniel," Johnson said. "Thirty-two years is a long time to contribute so much to one program."
"It is a great honor to be performing," Ruiter-Feenstra said. "Having worked as a professor myself it gives me great appreciation for someone like Dr. Geeting who has been at Cal Lutheran for 32 years."
The theme of the concert was Psalms, hymns and spiritual songs. The program consisted of works from Georg Böhm, Johann Sebastien Bach, Paul Sifler, Dietrich Buxtehude as well as original works and improvisations from Ruiter-Feenstra.
One of Ruiter-Feenstra's improvisations was dedicated to Kyle Johnson. He was one of the renowned organist's students while she taught the organ at Bethany College in Lindsborg, Kansas.  The concert commenced with a piece by Dietrich Buxtehude named "Te Deum Laudamus."
"The opening song shows off all the different sounds of the organ and at the same time depicts the different aspects of faith and who God is," Ruiter-Feenstra said. "This is painted through the different colors of the organ."
The headline organist said the mood of the program was constantly changing. It went from feelings of hope, strength, and faith to questions and suffering that the time of Lent brings up.
Cal Lutheran students and faculty also collaborated on the program. 
Although Geeting said he is humbled that such a concert was dedicated toward him, he said he hopes his impact on Cal Lutheran will be felt long after he is gone.
"I think what is important is that students not only learn stuff while at the university, but also that certain values get passed down," Geeting said. "I hope we all in the music department help promote the visibility of music on the campus."
Senior Omar Lopez has been in Geeting's symphony for the past two years. He said he credits much of his musical development to Geeting.
"He is someone you aspire to impress and you are afraid to disappoint," Lopez said. "He pushes us to be the best we can be."
The man who once fell in love with music and the clarinet by listening to his parent's collection of old records will remember this honoring as his illustrious career comes to an end. Geeting will be retiring this upcoming May.
Andrew Davies
Staff Writer
Published March 2nd, 2016