Do you even shred to your class?
At least once a day on California Lutheran University's campus a skateboarder will pass by on their way to class, but what does the rolling piece of plywood mean to them?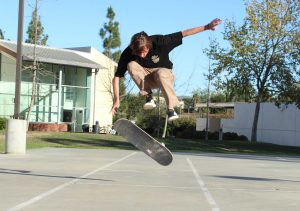 My first week at Cal Lutheran I walked to class and for a while I didn't mind it at all. However, as I got into a schedule of waking up and going to class I found myself cutting a fine line between punctuality and truancy too regularly.
Instead of dropping the bad habit, I saw the skateboarders. To me, it was a new form of transportation that gave my 6'2" frame a good deal of anxiety. I had already seen many people hit gravel, make that unmistakable high-pitched screech, fall and have to pick up their skateboard along with their confidence.
A quick scroll through Craigslist gave me my new long board, the commonly seen style of skateboard around campus.
I found the best way to do something new is to just start trying it until skill starts to shine through. Although not without frequently falling to confirm that getting back on the board is a better option than just quitting. 
This was when I found a club on campus that catered to my new hobby and welcomed a newcomer into their ranks.
This club was the Campus Longboarding Union of Riders and they started the same time my skateboard riding was in its infancy.
The culture of the club encourages a love for skateboarding. 
It should go without saying, not every rider on campus shares this sense of camaraderie and treats their board as a means of travel, nothing more, nothing less.
And these are the riders you might see every day going to class, Jamba Juice, riding in the rain (big no-no) or just  using it to get somewhere.
The culture is there and vibrant and has been adopted by Cal Lutheran in subtle but meaningful ways.
First off, Cal Lutheran's campus is incredibly accommodating to skateboarding considering its slow, sloping hills, very smooth roadways and its small size. These all satisfy even the most novice of riders.
"I was able to learn in a semester, so considering how risky skateboarding seems. I've seen people fall on their face really hard," senior Sahal Farah said.
Farah has been riding two years with the help of a Penny brand "Nickel" board. Comparatively, this board is rather small compared to a majority of boards on campus, however its all a spectrum of size and comes down to how you use it and personal preference.
"I feel like it has cut a majority of the time I spend coming to class to the point I give myself five minutes to get all the way across campus."  Farah said.
Having this contraption on wheels also gives the rider a certain deal of responsibility. Traveling at 15 to 20 mph on side  walks and crosswalks afford the student on the board a chance of completely knocking an unsuspecting individual out.
Luckily, there seems to be an understanding with people who use their ears and hear the wheels hit each sidewalk groove. They move out of the way.
It cannot go without saying, this is one of the most conscientious and considerate actions you can do for a skateboarder going fast. Many times I have bailed going fast down the spine toward the Pearson Library and had to avoid spraining everything in my body from a person who did not move.
It is obvious that skateboarding culture is alive and well at Cal Lutheran.  As long as there is a passion for bearings, polyurethane wheels, and going somewhere fast, skateboarding will always have a place at Cal Lutheran.
These are the tenants I adopted and hopefully will be able to pass on to newcomers like myself four years ago.
Connor McKinney
Staff Writer
Published March 2nd, 2016
Don't forget to check out an Echo Exclusive video on skate culture at Cal Lutheran by Multimedia Journalist Brady Mickelson: https://youtu.be/5v1R30RWfkA