Walking out of darkness
On March 5, California Lutheran University partnered with the American Foundation for Suicide Prevention hosted a 5k Out of the Darkness walk around campus in order to educate attendees on suicide awareness.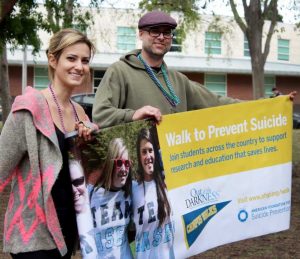 According to the AFSD website, statistics show that there are an estimated 120 suicides per day and approximately 42,000 suicides per year occurring in the United States alone, with the highest rates involving white middle-aged males.
"The purpose of holding this event on campus is to help raise awareness in the community on suicide.  Something that people don't know is that students in college campuses are more likely to commit suicide while in school because of stress, relationships or family life," Sara Martinez, Peer Prevention Programs intern, said.
Kristin Dees, associate director of Student Life, works within Peer Prevention Programs and said that several people commit suicide because mental illness and depression are on the rise nationwide.
"It's a topic that people are more able to talk about, confront and have conversations with. I don't know if it's more of a critical issue than it has been. I just think it's more of an open issue than it has been of people acknowledging and talking about depression and talking about these elements," Dees said.
At the event, speakers included former Cal Lutheran president. Howard Wennes and his wife Mary Wennes, who talked about their experience after losing their son, Davy. Other speakers included Elisabeth Turner from Student Counseling Services, as well as junior Nicole Reyes.
A resource fair also took place, which included vendors such as Vista Del Mar Hospital, YMCA and Break The Stigma. According to the AFSD website, faculty such as Jaime Bedics, who has a doctorate in clinical psychology, raised funds of $140 online.
Freshman Kaitlyn Sloniker, who walked in the 5k, participated in order to show her support for those who have struggled with mental health and have thought about suicide.
"I feel that society really stresses on good physical health, but when it comes to mental health, it isn't as important. I recently got a semicolon tattoo to show my support for mental health and as part of my own recovery process. I want people who are struggling to know that they're not alone with their battles," Sloniker said.
Sloniker shared a story as she explained that some people find it very difficult to discuss their emotions or admit that they may be struggling with something, and that they need a safe, non-judgmental environment.
"A classmate I knew from high school committed suicide last October. Even though I didn't know him very well, it really affected me. I was extremely sad that he did commit suicide and was shocked that this happened. It really goes to show that we have no clue what goes on in someone's personal life and the struggles that they face," Sloniker said.
Martinez said people who think about suicide because they are perceived as someone who shouldn't have difficulties, so it makes it more difficult to ask for help.
"Suicide is in the top 10 leading causes of death here in the United States and it's the only one that is intentional.  I think people do it because they often feel as if they are off but either don't know where to go or don't have the resources to get the help they need," Martinez said.
Dees said that there are several on-campus and off-campus resources for Cal Lutheran students who may be thinking of harming themselves and do not want to confront their family, friends or loved ones.
The Student Counseling Services center has emergency sessions that can be scheduled every day.
"SCSC has a lot of resources listed on their website for students who live off-campus and places that they could go," Dees said.
Leina Rayshouny
Staff Writer
Published March 9th, 2016