Scholar criticizes Olympic gender eligibility policies
On March 2 at California Lutheran University, senior research scholar from Stanford University, Katrina Karkazis, discussed the ethics of sex testing on professional female athletes.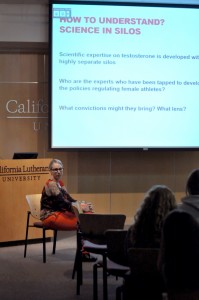 Karkazis is a part of the annual author's visit hosted by the Pearson Library where a female author comes and visits to discuss their work to Cal Lutheran.  Rebecca Mendelson, the manager of outreach and interlibrary loan for the Pearson Library, organized this year's visit.
"The goal is to give her as much exposure to our campus and our campus to her as possible," Mendelson said.
Karkazis' visit to Cal Lutheran started with a meet and greet in the Pearson Library lobby where people had the opportunity to interact with the author in a relaxed environment and get the author to sign books. Karkazis then gave an open lecture from 7-8:30 p.m. in Lundring Events Center where she talked about her research and the ethics behind sex testing.
"Her work is very important and groundbreaking," Mendelson said.
Karkazis' main focus of the night was on the eligibility policies that come from the International Olympic Committee and the governing body for track and field.  These groups govern elite female athletes and limit the amount of natural testosterone of these athletes who compete as women can have. 
"They're not doping and everyone agrees that these women haven't cheated and haven't done anything wrong," Karkazis said.
The author and researcher explained that these sports governing bodies are making athletes who are born a woman, legally a woman and have competed their whole lives as a woman lower natural testosterone levels if they wish to continue competing in their selected sport. 
"It is the first time ever that a sports governing body has made people change a natural trait about them in order to remain eligible," Karkazis said.
Sophomore track athlete Anna Schlosser said she believes it to be unfair to tell women they cannot compete because of their testosterone levels.
"I think people shouldn't discriminate women in track and field sports because every girl has a different body type and there are a lot of physiological aspects that play into women and their appearances. Some women are more muscular because they need it for their sport," Schlosser said.
A point that Karkazis discussed is that she finds the "rationale of these governing bodies problematic" because these policies on testosterone levels only apply to women.  Men who compete in the same sporting events as these women are allowed to have low or high testosterone levels and are not forced to change their natural traits. 
"The ceiling that the sports governing bodies have established is arbitrary and not based in science.  There is no direct evidence to show that women who have higher levels of testosterone perform at the levels men do," Karkazis said.
Karkazis' ultimate goal is to get rid of the policies that allow people to investigate women based upon the assumption that they might have high testosterone levels.
"It doesn't feel fair, it's discriminatory and it primarily affects women from the global south who are black and brown," Karkazis said.
This author pulls inspiration from her desire to promote social justice.  She said she believes in equal opportunities for everyone no matter who they are or what lifestyles they have chosen.
"Whether it be people being oppressed because of their gender expression, identity, race or sexuality, I am bothered and want to help and make a difference," Karkazis said.
Dean Hendrix
Staff Writer
Published March 9th, 2016