A lover of lasagna and warm weather, Samuel Claussen was welcomed to California Lutheran University as the newest member of the history department.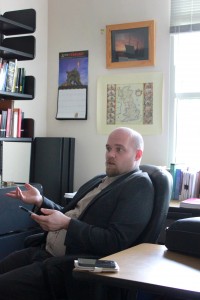 Claussen started in fall 2015, teaching courses on general history as well as classes in his area of expertise, medieval history.
Claussen teaches World Civilization 101 and 102 with associate history professor David Nelson as a sort of tag-team regime.
"Dr. Claussen is a dedicated teacher and researcher, he loves what he does and wants to challenge our students to excel. He has a dry, subtle wit that, if students are paying attention in class, will keep them interested and engaged with the subject," Nelson said.
Claussen said the energy is different when there are two professors and one is sitting and watching together with the students. It's fun for both the students and professors.
"He's a dog person, and I prefer cats, but we still get along quite well despite that big difference." Nelson said.
Medieval history became the main focus by "looking into my own ancestry, and I have Welsh heritage. I thought, 'let's look into Wales,' and the last time Wales was it's own thing around 1300. Then I thought, 'OK let's keep going,'" Claussen said.
Originally from a small town of about 8,000 people in New Mexico, Claussen moved to California in August before the start of the fall 2015 semester.
"I like to spend my weekends trying to become a Californian. I had never been further west of New Mexico and last semester I was so excited because I could go to the beach," Claussen said.
Another one of Claussen's hobbies includes brewing beer.
"We both share a passion for craft beer. Sam brews his own beer and makes his own mead. He is quite accomplished at both," Peter Sposato, assistant professor of history at Indiana University Kokomo and longtime friend of Claussen, said in an email interview.
At Cal Lutheran, Claussen said one of his favorite things is the small class size.
"A big school where professors and students don't know each other's name is not a model of education I'm attracted to at all," Claussen said.
"I attended a small school in the Colorado mountains, in some ways it is very similar to Cal Lutheran. It's part of why I like it here," Claussen said. "I'm reminded of my own experiences, with small class sizes and teachers who are invested in teaching. It's a Lutheran school, and yet, we're very open, very welcoming. The very characteristic of this school but also the culture is great."
Claussen said his main interests in his area of study are questions of lived religion and religion and violence, he said.
"My goal is to continually blend research and teaching together. I sincerely believe that being a scholar and a professor together are both important and they both inform each other," Claussen said. "[Students] are open-minded and maybe I'll ask them a question with an answer in mind, and they'll say something that'll make me stop and maybe rethink it. Responses from questions posed to students have informed my research."
"Sam is an excellent historian and teacher, as well as an outstanding human being. CLU is very lucky to have him," Sposato said.
Claussen said the most rewarding part of his job are the students.
"If we talk about medieval history for weeks and then seeing them present on a subject they've mastered, and when they now know more than 80 percent of the population about it, that's the magic moment," Claussen said.
Rebecca Austin
Staff Writer
Published March 9th, 2016