Kang of the jungle
California Lutheran University's ASCLUG Programs Board hosted the annual Mr. Kingsmen March 11 in the Gilbert Sports Arena with the theme of king of the jungle.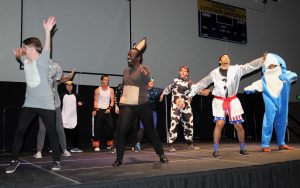 There were four parts of the pageant. First, each contestant was introduced with their date. Next was a choreographed group number.  Following the group dance, the contestants showcased their talent. After the talent portion, students who attended were asked to follow a link and vote for their top five contestants. Those five then moved on to the question and answer portion. Attendees were asked to vote again and Tetteh Canacoo was named Mr. Kingsmen.
Genesis Rodriguez, part of the Mr. Kingsmen planning committee, said the event can best be described as a male pageant. Mr. Kingsmen has been a tradition at Cal Lutheran for years. Rodriguez said she does not know who came up with the idea, but remembers it being here when she was a freshman.
"It's mainly just a fun event for both the students and the participants. The participants are able to showcase their talents and feel like they're in a real life pageant while being supported by their classmates. The audience also gets to watch a fun show, learn more about their classmates who are participating and vote for who they want to be crowned as Mr. Kingsmen," Rodriguez said.
Mr. Kingsmen was a two-month process of planning and her main responsibilities were designing and booking a dessert to cater the event.
Rodriguez said the nominees were four seniors, three juniors, two sophomores and one freshman.
Canacoo said he was completely surprised by the results and it was great ending his senior year with the win because it is something he will never forget.
"I was very excited, this is my second time doing it. I did not think I was going to be nominated again but when I found out I was nominated I was very excited," Canacoo said.  "My talent was dancing, I love to dance, that's something that comes naturally to me so I figured if I am going to do something on stage I wanted it to flow naturally."
Canacoo said his competitors did really well. He was impressed by Adam Santa Cruz's salsa dancing and Chris Mitchell playing the recorder to Miley Cyrus' "Wrecking Ball" while the audience sang along.
Going with the theme, each contestant chose an animal, ranging from a squirrel to a shark. Canacoo said that he chose his animal as a kangaroo because he was born in Australia and wanted to stay close to his roots.
Frankie Manes, junior and first-time nominee said he was really surprised about being nominated.  He joked he couldn't get a date so he picked his mom because she helped him get to this point and she's his comedy idol.
"For my talent I did a bunch of impersonations and different characters and voices, looked like the audience really enjoyed it, basically like an improv show," Manes said.
Manes said Canacoo just blew the competition away with his dance.
"I really did not think there would be so much love. I had a lot of family and friends come support me," Manes said.  "Win or lose, it was nice to see that I have so much support at this school. It's really a great community."
Jessica Gilbert
Staff Writer
Published March 16th, 2016