Regals brew up victory over No.32 Vassar
The California Lutheran University women's tennis team took on Vassar College in nine matches consisting of three doubles matches and six singles matches. The Regals pulled out a 6-3 win after four hours of play.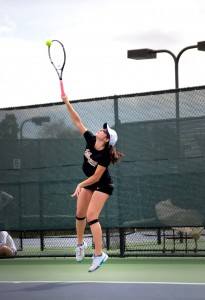 This was the Regals first match in two weeks after two of their matches got cancelled because of poor weather conditions.
"It's always a little bit tough when your matches get rained out because you come with the mindset that your 'egoing to play a match and then it starts raining," sophomore Gianna Cupo said. "We had to wait four hours for one of our matches to get cancelled. I think it's a little tough mentally, more than physically to get back onto the court."
The day started out with three doubles matches. On court No. 1 junior Emily Werman and Cupo dominated their match with an 8-1 victory to start the Regals with a point. Court No. 2 had junior Rebecca Gold and freshman Sarah Seeman going 16 sets to come up short 9-7 Brewers. The third and final doubles match was played on court No. 3 by junior Shelby Kubota and freshman Christie Kurdys. They fell to the Brewers 8-5 in 14 sets.
"I think we played really strong. They were a very good ranked team. We brought our A-game, stayed focused and kept fighting," Gold said. "Doubles was great, our ones did a good job at staying down and just controlling the ball and the points. I was on court No. 2 with my partner and I think we stayed ahead. I was really proud with how everyone fought."
Then began the singles play across all six courts. Cupo started off in the first court with a 6-4, 6-1 straight sets victory. Seeman came out with a win in straight sets as well two wins as well with scores of 6-2 and 7-5. Werman came out strong the first set with a 6-0 win. She was down the second set 5-1 and came back to put the match away with a 7-5 win. Kurdys was in the fourth court and put up a fight until the end and came out in three sets with scores of 4-6, 6-2 and 6-1.
Gold was the first of the Regals to win her singles match with two wins right away with scores of 6-3 and 6-0. Kubota was the only Regal unable to get a win in singles and went down two games to none with scoring sets of 6-4 and 6-4.
"I think for me our last match we actually played was a very draining match both mentally and physically," Werman said. "I think I learned from that and I hope our whole team did too. Tennis isn't just a physical game, it's a mind game, and I used that experience to help me in my singles match today. Our whole team was mentally focused and positive and I liked it."
With the Werman/Cupo win in doubles and five out of the six Regals winnings in singles, the Regals won the overall match with a score of 6-3 against Vassar, who is nationally ranked at No. 32.
"I think they fought really hard. Every single shot, every single game was a fight," Head Coach Vanessa McPadden said. "I think we could have easily lost, it was neck and neck, but we came out 6-3 and it was good."
The Regals will continue non-conference play with matchup against Wheaton at the Poulson Tennis Center on March 17 at 4 p.m.
Courtney Sooy
Senior Writer
Published March 16th, 2016