Pairing wine and creativity
Making simple paintings from coloring by number, cutting out shapes and sporadically gluing them down or finger painting animals on the table in pre-school brings a smile to a child's face instantly as they learn the foundations of art.  After many years these smiles are back, but now on the faces of adults as they rediscover the fun they once had.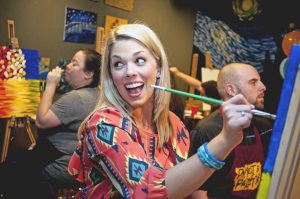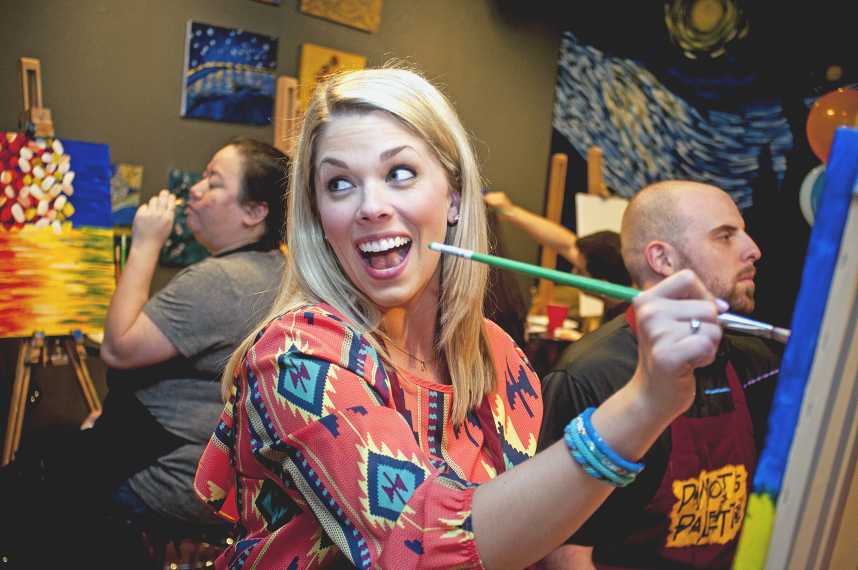 Tucked away in the small suburbs of Westlake Village, California lives a paint and wine art studio, Pinot's Palette, that is full of bright color, lively music, light food options, close friends, family or colleagues and good drinks.
With 98 locations nationwide, two sisters, Amanda and Michelle Green, "with a love for art," decided to open up a family run location to bring art and "a good time" to the people of Westlake Village and its surrounding areas.
Pinot's Palette allows people 21 years of age and older to come and be led by a local artist through a two or three hour painting while also being able to purchase and enjoy wine, beer, champagne and other alcoholic beverages in a relaxed, yet social atmosphere.
"It's a big painting party," Amanda Green, owner of Pinot's Palette said.  "For anyone and everyone over the age of 21 it is a great time to enjoy some music, drinks and painting with everyone you are with."
This studio provides all the paint and supplies needed to complete the night's artwork.
"People can feel free to bring in their own food if they like.  Some people bring in small appetizers, but we also have food for purchase at our bar," Amanda Green said.  "All you need to bring is an attitude that is ready to have some fun."
Although Pinot's Palette has only been in Westlake for 11 months, they see a good amount of business that keeps them busy and their doors open.
"I would say the busiest time we have is during the holiday season; Valentine's Day, Mother's Day, Christmas, that was a big one," Amanda Green said.
This paint and wine studio offers a lot of opportunities for people to paint.  Public classes are held on Thursday, Friday and Saturday nights, as well as Sunday mornings or afternoon and a class on Tuesday. These classes are $35 to $45 per customer depending on how long they wish to paint.
The company also hosts business parties and rents out the studio to groups who wish to do private parties for special occasions.
"On top of our public classes, we do a lot of corporate team building events, birthday parties, bachelorette parties and other things of that sort," Amanda Green said.
With over a thousand pieces of possible art to choose from, participants from private parties have the opportunity to select what they would like to paint for the night.   
"We have so many pieces in our library, so many different varieties; one hour, two hour, landscape, beach, animals, everything," Amanda Green said.  "All the paintings are amazing.  It's really up to the painter to choose which one they want to see themselves accomplish."
On the other hand, for those who wish to attend public classes, the studio offers a calendar on their website with the pieces of art that will be painted certain days.  This way the public has the chance to view the pieces of artwork in advance instead of walking in not knowing what is going to happen.
The online calendar is also a way for people to register and sign up for dates and times when they wish to go to the studio and enjoy themselves.
"I like being able to see customers come in and have a really fun night," Michelle Green said.  "There are lots of moms that are working hard all day long and get to go out and have fun with their friends or date nights where a couple gets to come and do something fun that they've never done before.  The best thing is being able to see those customer's reactions."
Participants who believe they lack the artistic ability to complete a painting do not need to fear.  Amanda Green said the art instructors are trained to lead everyone through very easy steps of each painting.
"You don't need any artistic ability and they [the paintings] still turn out amazing," Amanda Green said.  "The wine helps too."
Michelle Green also said that people don't need to have artistic ability to come and have a good time.  She said she believes that their studio is not structured like any other art class and geared more toward entertainment.
According to the Pinot's Palette website, "The great Picasso once said, 'Every child is an artist. The problem is how to remain an artist once he grows up.' We've found the solution to that problem."
Pinot's Palette is open from 10 a.m. – 5 p.m. To sign up for a class visit their website http://www.pinotspalette.com/westlakevillage/classes.
Pinot's Palette is located at  2879 Agoura Road, Westlake Village CA 91361.
Dean Hendrix
Staff Writer
Published April 6th, 2016