Every other year during the spring semester of 2016, professor Gregory Freeland teaches a course by the name Music and the Civil Rights Movement an honors course with content from 1954-1968 while discussing Civil Rights Movement and Music.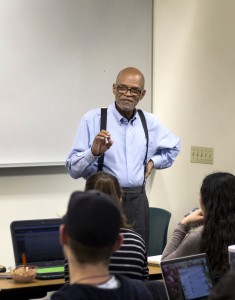 Freeland received his doctorate from University of California, Santa Barbara. Before moving to California, Freeland grew up in North Carolina spending most of his time at Duke University where his mother was a librarian. Freeland served in the army before getting his undergraduate from the University of Maryland. While in the army, he was stationed in Korea. After completing his Ph.D he wanted to stay close to Santa Barbara and began working here at California Lutheran University in 1992.
Freeland received an offer for a fellowship at Harvard University studying Civil Rights Movement and Music. In 1998 he came back to work for Cal Lutheran where he began working on the class Civil Rights Movement and Music.
"My own experience growing up in North Carolina was during the Civil Rights movement. I grew up in a segregated society. I remember going to church and hearing a lot of the music," Freeland said. "Being always fascinated with the music I thought it was a good combination to do. Because I taught Civil Rights movement here and most of my ex-group [sic] has been there that way. Since I like music, since I know a lot about music, so it seems like a lot of fun."
Overtime the class has developed into an honors class, which keeps the class size small. Freeland wants all majors to be able to come and take the class. The coursework contains three papers on the subject matter. The first paper is on music and politics, the second paper is on the years 1960-68, and the third paper is an open paper on any topic relating to the class. There are also a couple quizzes in the class.
Lean, an elder resident living in Thousand Oaks may be an unconventional student, but he is adding his insight to the course.
"Lean is a senior citizen. He is about 83-84 years old, he lived through the movement. He is able to add comments. The class is Tuesday and Thursday and he almost makes every class," Freeland said. "If they want to learn about connection between music and politics it certainly is very useful it is also a good connection between emotions and intellect."
Lauren Chrislu, a math major enrolled in the course, explained the course as how music in the Civil Rights movement played a factor in mobilizing people and the undertones involved in becoming a black artist in a predominantly white record label field. 
According to Chrislu, she has learned about the Montgomery bus boycott, the Free Riders, various organizations and how music during the civil rights movement changed as strategies to overcome Jim Crow Laws changed.
Michael Walk, a physics major, is also enrolled in the course to look at music in the civil rights because it was an honors class that seemed very interesting to him.
Walk said he likes to get in depth about the music that he plays and said Lean is a nice older gentleman that he has only spoken a few times. Walk said Lean is interesting to listen to because he has firsthand knowledge of things that happened in the mid 20th century.
"My favorite thing about the course would have to be hearing the different artists and seeing how music evolved as time went on. The lyrics or lack of show the emotions and feelings of people in those times and the messages they were trying to tell with their music," Walk explained.
Freeland encourages students to sign up for this course no matter what their major may be. He also encourages all students on campus to come listen to a folk singer on campus April 19.
Jessica Gilbert
Staff Writer
Published April 6th, 2016