Seven artists competed at Battle of the Bands April 1 for a chance to open at this year's Spring Concert featuring Sage the Gemini April 29.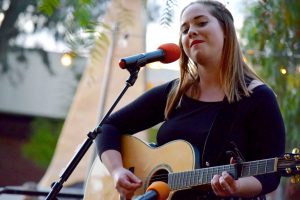 In past years, students were welcomed to showcase their talent at an annual Rock the Campus event, but this year's showcase was reinvented to help promote the spring concert, taking the place of the Spring Formal.
ASCLU Programs Board Committee Chair Tetteh Canacoo worked behind the scenes to produce Cal Lutheran's Battle of the Bands, deciding along with his committee members that this year would be a different kind of showcase.
"In the past years there was no winner it was more of just a hang out, open mic kind of event, but then this year we decided to make it a competitive one," Canacoo said.
The event, hosted by Programs Board, included the solo artists Katrina Petty, Romello Ugale, Natalie Kalamdaryan, Tyler Lucas and Nolan Forghani, as well as the bands Azon, The Kings and Lancer Roscoe. All artists performed at least two songs and many included original work.
Caleb Arndt, lead guitarist and co-songwriter of Lancer Roscoe, is a senior at Cal Lutheran. He and his band members played all original music April 1. They've been together roughly a few months, but have encountered early success, playing six shows in the past three months.
Arndt and his band members were grateful for the opportunity to perform in front of the Cal Lutheran community and share their unique sound, attracting fans of all genres. Their music is inspired by the sounds of rock, jazz, hip-hop, pop and folk music. Arndt said he believes it's nice to not to be held down by a particular genre.
"I think people get complacent with [music]. They just turn on the radio and assume that whatever is playing is what good music is, when in reality there's a lot of music out there. I always say that probably the best bands in the world and the best songs ever written have never really been heard by a large audience because they never got the right opportunity to play," Arndt said.
They're hoping the right people will hear their music so that they might build up a fan base who enjoys what they do.
Solo artist rapper and first-year student at Cal Lutheran, Roemello Ugale, performed two of his original songs at the event. Ugale grew up listening to rap and hip-hop with his father when he started writing his own music at the age of eight.
"It means a lot that I get to do this because I was here for Cal Lu Palooza last year and I was like 'I'm going to be up there next year just watch,'" Ugale said.
Ugale didn't get serious about his music until the age of 12 when he started putting his lyrics together and believing in his talent.
"Me and my dad will always listen to hip-hop and so I feel it every time, every beat I hear I get inspiration and I start going," Ugale said. "I'm not going to write about something if I don't feel it, I always try to be authentic in what I do."
Votes for favorite artist were submitted online Friday night at ASCLUG's Facebook page, as of April 4 the winner has yet to be announced. Cal Lutheran students can come cheer on the winner April 29 as they open at the Spring Concert for Sage the Gemini.
Taylor Rowlands
Staff Writer
Published April 6th, 2016