Apps to prevent sexual assault
What if you had the opportunity to keep something bad from happening to you?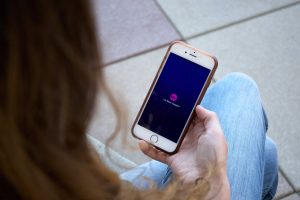 Or if something bad were to happen, you would be able to take immediate action to help better your situation?
This is the goal of the Institute for the Study of Coherence and Emergence  who has set up three apps to not only raise awareness about sexual assault, but to help victims as soon as they are assaulted.
The first app is called, "What About No" which when the user wants to tell their partner "no," can activate the app in which a police officer will appear on the screen and also giving the message of  "no," which gives them their last chance to leave that person alone. There is now evidence of the person watching the police officer and understanding the message, while this record is now encrypted and stored where only the proper authorities can later access.
The second app is called, "I've-Been-Violated" which allows the victim to immediately record what they remember about their assault, which would be valid evidence if they wanted to press charges in court. The app also saves the time, date and location along with the encrypted message, which can once again only be accessed by police if necessary.
The third app is called, "We-Consent," which records both partners giving consent to sexual relations with each other. This provides proof that sexual assault did not occur and that both parties were consenting. This message is encrypted and stored and can be accessed only by police if there is any discrepancy.
According to the We-Consent website, Michael Lissack founded ISCE in 1999 with a goal to "facilitate the conversation between academics and practitioners regarding the implications of complexity thinking for the management of organizations."  It wasn't until 2015 that the Affirmative Consent Division was created, which had goal of addressing the social problem of sexual assault.
Molly Gillies, a freshman at California Lutheran University, is a campus representative for ISCE whose goal is to spread the word about the apps that have been produced along with the benefits of not only the apps themselves, but about awareness and prevention of sexual assault.
"I thought this would be the perfect job to go into since, as a psychology major, I would have to deal with sexually assaulted victims in the future," Gillies said.
Despite the fact that these apps are relatively new and the services have not been needed much yet, Gillies is optimistic about the work she is doing.
"I can see these apps have a lot of potential in the future and that there's a purpose for sharing it with a lot of people." Gillies said.
Lissack will also make better use of his work when he is able to get more schools on board with the apps and their purpose, along with spreading the word that both "I've-Been-Violated" and "We-Consent" are free. The "What About No" app is $5 per year.
"We're trying to get schools to work with us because the apps are much more effective if we can customize and localize them. The programs for schools are again that magic word: free," Gillies said.
Cal Lutheran senior, Robben Taylor, who is a strong advocate against sexual assault, agrees that these apps will help all women, college students especially, to protect themselves from becoming victims themselves.
"It's nice to see people caring and spreading the word about this issue. These apps have the potential to keep people safe instead of being victims, which could make a world of difference in thousands of people's lives," Taylor said.
McKay Weiler
Staff Writer
Published April 6th, 2016