Regals water polo stifled by Poet defense
The California Lutheran University women's water polo team lost their game against Whittier College April 2. After a strong fight against their opponents, the Regals suffered a 14-9 loss.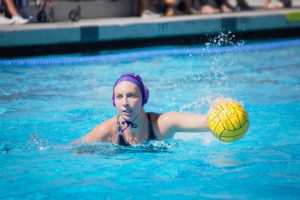 The main strategy going into the game was to maintain a strong offense to get shots off early. Maintaining consistent motion and taking advantage of opportunities to make open shots were their goals to outplay Whittier's strong defensive side.
"We just knew we had to have a lot of movement on offense because they're really good on defense," Head Coach Craig Rond said.
Because the team wasn't able to keep consistent movement on offense, Whittier was able to get ahead early on in the game. Once the first quarter kicked in, Cal Lutheran struggled to maintain control of their offense, allowing Whittier to score four points.
"In the first quarter we didn't [execute our plan] and they went up 4-0. In the second quarter as soon as we started moving and getting a lot of motion, then it was a ball game and we were close so we just didn't do it quite consistently enough," Rond said.
Even though the girls kept up their movement during the second quarter, they weren't able to get enough shots to get them ahead in the game.
"The difference in the games was us not making our shots or the obvious scores. We just didn't hit them and Whittier did. They outshot us today, so I thought outside of that if we hit some of our open shots then we probably were right in the game," Rond said.
Senior attacker Tatiana McCuaig said there were a few things the team could collectively improve on for the next game, which included consistently sticking to their strategy throughout the whole game and finishing out their offensive play.
"We could improve on following the game plan for all four quarters, capitalizing on opportunities and finishing our shots in the end," McCuaig said.
Sophomore attacker Kayla Wagenhofer said that a contributing factor to their loss was the limited amount of shots they took. Not taking open shots throughout the game allowed for Whittier to keep control of the match.
"We were taking some bad shots and missed out on our opportunities that were there during the game," Wagenhofer said.
Even though this loss sets Cal Lutheran back in the overall standings, there are three conference games remaining for it to make a push for the conference tournament starting April 22.
"I think we dropped into the No. 5 seed because now we are 2-3, but we're getting ready for Redlands on Wednesday and we will hopefully win that and we'll go to .500 and then we'll just go from there," Rond said.
The team remains optimistic about their match against Redlands on April 6 and hopes to come out on top. Even though they are set back in the standings, they hope to win out during their next three games and conference championship.
"We hope to win out in the next games for sure. I think it's still very possible for us to, so we definitely hope to win our next game against Redlands," McCuaig said.
Sarin Goncuian
Staff Writer
Published April 6th, 2016