M*A*S*H(ing) skills together
California Lutheran University's theatre department invited actor and TV star G.W. Bailey to participate in their annual event for an evening of questions and answers. Markus Flanagan, one of the last students to study under the late Sanford Meisner, led the conversation and has done so for the past five years.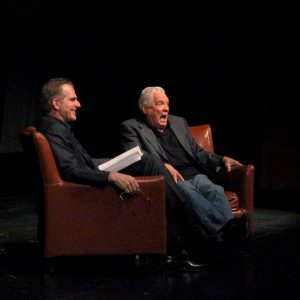 According to Cal Lutheran's event webpage, G.W. Bailey is  perhaps  best known for his roles as Staff Sergeant Luther Rizzo in M*A*S*H*, Captain Thaddeus Harris in the Police Academy films and Captain Felix Maxwell in Mannequin. He currently stars in the TNT series Major Crimes, a spinoff of the series The Closer, continuing his role as Lt. Provenza.
Theatre majors, minors and those receiving the visual and performing arts scholarship were required to attend the event.
"I am three times your age or more and I deal with it constantly. The outside forces pulling you here, pulling you there, who you think you are, who you want to be, who you could have been. You deal with it every single day, but in this [acting] profession, you will always have those words," Bailey said to the audience.
The conversation started with Flanagan asking Bailey about his Texan roots and how he got his start in Hollywood. Bailey commented on the insecurities that he faced when he first got fired and the friendships he made early on in his career.
"It was a lot of fun. [Bailey] has a rich history, goes back quite a bit. I've watched a lot of his stuff. I love how emotional he is when he speaks," Robert Cobos, one of Flanagan's students, said.
Right after the main question and answer session, Flanagan invited the students in his Meisner class as well as Cal Lutheran theatre students to stay and ask more questions about the craft of acting. This was also an opportunity to ask about real world strategies surrounding the entertainment industry.
"I thought G.W. had a wealth of knowledge and experiences of the industry over several decades which was very helpful. I also thought he was very charismatic which I think mixed with his talent has allowed him to work as much and as long as he has. I found it to be important to be likeable," Matthew van Scoyk, an actor in the audience, said.
Despite some technical difficulties involving a microphone, Bailey was able to communicate his advice on how to overcome hardships such as rejection and self-doubt. He recommended that all actors should be aware of the constitutional attributes that make them who they are.
"It was interesting. He answered a lot of what I was thinking in my head. It's just good to know that he already knows what it's like out there. It just helps me to prepare and build confidence as an actor," Angie Yandall, a Meisner student, said.
On giving advice to his younger self, Bailey emphasized to always keep studying the craft of acting. He shared the influential impact that William Shakespeare had in his life, as well as the importance of knowing the lines of any character he played.
For him, an actor's job is to create the illusion of the "first time", as if anything that happens onstage has never been rehearsed in order to bring light to the human condition.
"If we're serious about it and we believe in it, I believe that we [actors] are very special people. We've been given a gift to have a passion," Bailey said. "To live without passion, I can't even fathom what that's like."
Mario Granados
Staff Writer
Published April 13th, 2016