40th annual Chili Cook-Off coming soon
This year marks the 40th Annual Chili Cook-Off and Classic Car Show hosted by The Rotary Club of Thousand Oaks. One can support his or her local non-profits by taste testing chili and checking out some classic cars. The well-known Grilled Cheese Truck will also be making an appearance.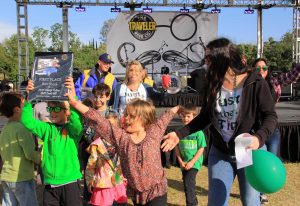 The event has been moved to a new venue located in Conejo Creek North Park off Janss Road in Thousand Oaks. People of all ages are invited to come out on April 24 from 11 a.m. – 6 p.m. to enjoy some homemade chili, classic cars, live music, vendors and a petting zoo.
The event provides free admission for children of ages 10 and under and $12 admission for adults. All proceeds will benefit local charities such as Westminster free clinic, Conejo Valley Reading is Fundamental, Dreamcatcher Park, K9s for Warriors, Make a Wish Foundation and many more, according to the event's website.
Chair of the event, Barb Murray, organized this family fun event in efforts to bring together the community as well as give back as a community.
"We give to over 80 non-profits in the community, 100 percent of the money we raise stays local," Murray said.
California Lutheran University is also helping to give back by participating along with 31 other institutions as a sponsor of the event. Cal Lutheran President Chris Kimball is a member of the Rotary Club of Thousand Oaks that is hosting the event.
The event has grown larger since the addition of the Classic Car Show. Sponsored by the Conejo Valley Rotary Club, there will be around 125 classic and antique cars on display. Each will be on display in hopes of being awarded for excellence in their category. There is a full display of cars previewed on the event's website.
For children there is a Kid's Fun Zone featuring a bounce house, bungie run, petting zoo, arts and crafts and face painters. Parents can purchase a KidZone wristband for children above two years of age for $10 to allow unlimited access to activities throughout the day.
There will also be three stages playing live music throughout the day, including local bands SOUTHBOUND, Julius Who, Cover 2 Cover and other regional favorites, as stated on the event's website. One stage will feature a jalapeño eating contest for those interested in signing up.
The Chili Cook-Off is an International Chili Society sanctioned event. Contestants will be professionally judged to determine a winner to send to the upcoming world championship in chili cooking.
Chili Cook Coordinator for the event, Susan Murata, receives about 50 to 70 cooks registering to qualify for the World Championships each year. She estimates the average turnout for the event is usually 8,000 to 10,000 people.
"People register for our event [and] they cook their own chili. Their chili is judged by the participants, by people that come to the chili cook off, as well as The International Chili Society. There are three contests for the international chili society: red chili, green chili and salsa, and those are judged by professional judges," Murata said.
Winners of the 2015 Chili Cook-Off took 1st, 2nd or 3rd place in each category, winning cash prizes and a chance to win title of World Champion. While ICS judges voted winners of the red chili, green chili and salsa contests, participants of the event were able to vote for their favorite restaurant vendor, individual vendor and booth to win prizes as well.
Executive assistant to the CEO of My Stuff Bags Foundation, Elyse Olkes, works for the non-profit helping to supply food vendors for the event. My Stuff Bags Foundation is a non-profit working with abused children removed from dangerous home environments.
"We have about 15 different vendors. We have six mobile food trucks and the rest are either tents or carts," Olkes said. "We have Baby's Bad Ass Burgers, Cousins Maine Lobster, The Grilled Cheese Truck, Mr. Softy, Scratch and Shave It."
For those attending the event, there is paid parking available at Conejo Creek South for $5. A free continuous shuttle service will be provided to take people across the street to the event site.
More information can be found at The Chili Cook-Off and Classic Car Show's website. This year the event has an Instagram @to_chilicookoff, Facebook https://www.facebook.com/tochilicookoff, Twitter @TOChiliCookOff and blog to keep up with activities and information about the event. Check out photos from last year to see what the day is all about.
Taylor Rowlands
Staff Writer
Published April 13th, 2016