For more than five years fans of J.K. Rowling's Harry Potter books and movie adaptations have been waiting patiently for Universal Studios Hollywood to open the Wizarding World of Harry Potter.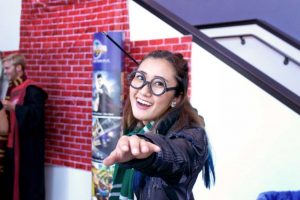 The Wizarding World of Harry Potter is an entirely new branch of the theme park that boasts rides, buildings, restaurants and shops based solely on the Harry Potter series. This unique experience immerses fans into the Harry Potter universe and on April 7 the wait was officially over as the gates to this new world were finally opened to the public.
Meanwhile at California Lutheran University, the campus radio station iCLU was looking for a way to get students excited about this new local attraction.
"We thought it would be fun to do something cool to celebrate Harry Potter because a lot of people like Harry Potter and are excited for the new addition to Universal Studios," Alexis Wallace sophomore and iCLU promotions coordinator said.
According to fellow iCLU promotions coordinator Caleb Solberg, the timing of this new park opening could not have been more ideal.
"We wanted to take iCLU events to the next level and we had a lot of great ideas but there were a lot of obstacles," Solberg said. "Harry Potter World was opening the same time we were wanting to plan an event, so we planned Potterfest for it and started advertising about a month ago."
The Potterfest celebration attracted students by offering various Harry Potter themed activities, as well as a chance to win season passes to Universal Studios. The event was advertised through a Facebook event page, promotions around campus and on the radio.
"I saw a lot of my friends checked that they were interested in the event on Facebook, so I found the page on my newsfeed," sophomore Mikayla Dobson said. "I wasn't really sure what to expect, I mean I was hoping for an all out quidditch match, but Harry Potter games and the chance to go Harry Potter World at Universal Studios whenever I want are great too."
The event was laid out as a scavenger hunt. Students could go to four different stations around the Student Union Building to complete various activities in order to fill up a punch card that would allow participants to enter the raffle for the Universal Studios season tickets.
"I was expecting more games than there were but this was still pretty cool," junior Jack Hagen said. "I've been a fan of the books since I was 5 years old, so I thought I would check it out."
Students entering the Student Union Building for Potterfest were handed the punch card at the first station. From there students could go to the Sorting Hat to see what house they belong to, take pictures in a photo booth with a cutout of Professor Dumbledore partake in Harry Potter trivia with the chance of winning smaller prizes.
"My favorite part was definitely the selfies with Dumbledore, I thought that was really funny and the picture actually came out really good," Dobson said.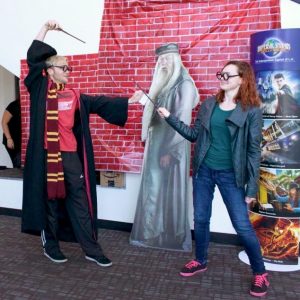 Even though the event was catered to Harry Potter fans, students did not have to be fans to attend.
"I'm not really a fan of the books or the movies and I had a lot of fun. I think they did a good job planning this so that fans of the series were not the only ones included," freshman Stephanie Rolfson said.
Even though Potterfest may have been a one-time event, iCLU has many more events planned to help promote the radio station.
"We are giving away prizes at the Sage the Gemini concert that's coming up and we are also hosts of the Locals Only Show, which brings on local musicians and is sort of like Cal Lu Palooza but a radio show so we're planning something to promote that as well," Wallace said.
Future events from the radio station will not be hard to miss, as they have a multitude of methods for spreading the word.
"Definitely check out the iCLU Facebook and Instagram pages and also just listen to iCLU radio itself because when we have an upcoming event we record all different sweepers that we play on shows in between songs and shows," Solberg said.
iCLU tables every Tuesday from 12 – 2 p.m.
"We're out on the Spine spreading the word about the station and sometimes handing out prizes," Wallace said.
Evan Underwood
Staff Writer
Published April 13th, 2016