The 211-mile trek of a lifetime
Mountain ranges that offer the most beautiful sunrises, fresh water flowing through rivers and streams, crisp, clean air that opens up your lungs so wide that you're happy to be away from the city.  These are just a few of the things that nature has to offer in the great state of California.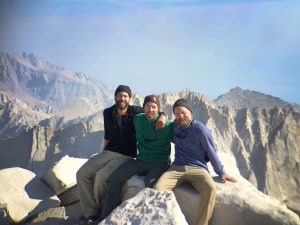 Three friends and coworkers from California Lutheran University realized just that when they decided to come together last summer to go on the journey of a lifetime.
Religion professor Sam Thomas, Vice President of Enrollment Management and Marketing Matthew Ward and English professor Bryan B. Rasmussen are all friends who have been on multiple backpacking trips over the past six or seven years and one day decided it was time to hike the John Muir Trail.
"It was always an idea that was out there that some of us wanted to do.  Somehow, kind of miraculously the window of time opened up just right for three of us to go," Thomas said.
This trail winds 211 miles from the base of Half Dome in Yosemite National Park to the peak of Mount Whitney.
"It took three weeks," Thomas said.  "Going out for five or six days is one thing, but to get three weeks where we could all go was a mission in itself."
Preparation for a trip of this magnitude began early.  Not only did the men have to make sure they were physically ready, but they had to make sure they had the necessities.
"We met quite a few times starting about six months in advance to plan logistics such as transportation because we started up north and finished down south," Thomas said.  "We also had to plan food preparation of what to bring as well as other things to eat up there without having to go far off the trail."
"Fitness-wise the trip was hard, but not that hard," Ward said.  "I wasn't taken to my limits because I don't have a problem with altitude changes for the most part but I did have a hard time managing my diet; therefore I had times I needed to lay down for a couple hours to refuel."
The John Muir Trail zigzags through the Sierras and allows hikers the experience of seeing what is known to some as the beautiful moments that life has to offer.
"Whether it be mountain ranges at sunset, rivers at six in the morning, birds that I heard or deer staring at me straight in the face, they are all memories that are high points," Ward said.  "The whole thing and what I saw was just so surreal.  It was nice to experience something away from most of humanity."
Along with all the good during the 21 days on the trail, the group experienced some hardships that included not being able to use technology and not being able to reach loved ones, which left them very homesick.
"The hardest part of the trip was being away from my family for three weeks and not being able to call them," Thomas said.  "Honestly I didn't think it was going to be as hard on me as it was because I have taken long trips before, but even then I was only a phone call away."
Ward agreed that being away from his family was hard.  The family man was not able to contact his daughter on her birthday and it was something he would have never expected to happen.
This trip meant so many things to these men.  Being outdoors and enjoying nature with each other was something that these men never took for granted.
"There is a spiritual element to being able to connect to the forces of nature. It's soothing to the soul and to me acts as a reset button," Ward said.
"The companionship and memories I made with these guys was the best part for me," Thomas said.
"Looking back at this time last year I had something big planned for summer and now I am just looking for the next adventure," Ward said.
Dean Hendrix
Staff Writer
Published April 13th, 2016