Farmville comes to CLU
Fluffy farm animals were cuddled and held as students gathered under the pepper grove at the petting zoo hosted by the Associated Students California Lutheran University Programs Board from 6-8 p.m. on  April 15.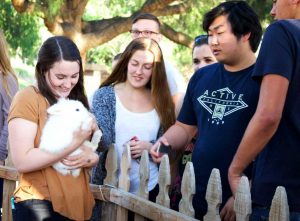 Annie-Claire Lowen, a member of the ASCLU Programs Board, in charge of organizing the We Bought a Zoo event. With only a few more weeks of class left in the semester and with finals around the corner, she felt it was the perfect time to set up a petting zoo on campus.
"It was just meant as a fun way for people to relieve stress by petting some animals," Lowen said. "It also was a good way for students to come together and have something safe to do on campus on a Friday." 
The ASCLU Programs Board had been trying to get a petting exhibit on campus all year. They said they knew it would be an instant success if they could just make it happen. 
"We were talking about it at one of our programs board meetings and we thought it would be a fun idea because college students like petting zoos. We tried to do it earlier in the semester, but it didn't work out," Lowen said.
The petting zoo had a variety of friendly farm critters. Goats, bunnies, chickens, ducks and even a lowly sheep felt the love from the Cal Lutheran students. However, the animals weren't the only ones enjoying the moment. Laughs and smiles filled the faces of each group of students as they entered the petting corral.
Kyle Poppert, a sophomore majoring in theatre, had heard of the petting zoo through a friend. He thought it would be a cool way to spend his Friday night and perhaps get a face-to-face experience with one of his favorite animals.
"Pigs are my favorite animal and the one they had was really cute," Poppert said. "It was also something fun that gets you out before the weekend to meet new people."
The animals were provided by a family and friends-run business called Netties Party Pals. The company, located in Hemet, does a lot of petting zoo events on college campuses across California.
Chance Marinos, who works for the company, sometimes had to reassure the excited, yet nervous groups of students they were going to be just fine and that the animals were completely friendly, a fact that the company takes great pride in. 
"Every animal we have has been bottle-fed so they are used to the environment and social contact," Marinos said. "This makes our animals really friendly so no one needs to worry about being bit." 
Free popcorn and drinks were offered to everyone at the We Bought a Zoo event. A photo booth was also set up for the students.
Studies have shown that petting zoos are no longer just for little children. There is growing research suggesting that petting zoos have a tremendous therapeutic effect on people. With the chaotic and hectic lifestyle of a college student, exhibits like the one put on by the ASCLU Program Board are becoming more popular and needed in universities across the country.
Andrew Davies
Staff Writer
Published April 20th, 2016