On your mark, get set, race
Ever looking for a heart-pounding, thrilling time? It is time for you to race over to MB2 Raceway in Thousand Oaks, California.
"It's fun, fast-paced racing. You are doing 45 mph on a quarter-mile track," MB2 Raceway's Marketing Manager Gary Custer said during a phone interview.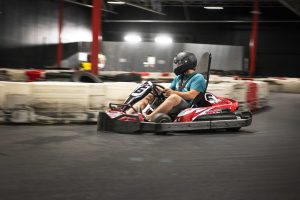 The raceway is open to the public, and they welcome both returners and new racers. Groups are allowed and even recommended if you hope to race head-to-head against your friends.
"We have group special prices where we will pair you up and race you head to head," Custer said. "We do what we call a grand prix, and we line them up like a NASCAR race. We drop the green flag, and they compete and race to see who comes out first."
They even hand out medallions and trophies at the end of group races. However, for those who may prefer the sidelines, they have plenty to offer you as well.
According to Custer, they have flat screen TVs that are set on sports, leather chairs throughout the building and a video arcade room complete with a pool table and air hockey.
This racing experience takes place in an electric kart. They pride their karts on being green, clean and fast.
According to their website, "MB2 Raceway is committed to going green by limiting harmful emissions. Because all of our go-karts are electric, all the racing action takes place inside our comfortable state-of-the-art, climate-controlled facilities and no one leaves smelling like gas fumes."
These go-karts not only prevent harmful emissions, but they also accelerate faster and are easier to handle, according to the website.
"I would definitely recommend this place to other college students because you are go-kart racing at fast speeds, drifting around sharp turns, feeling that adrenaline rush and having a good time with family and friends will make it a very worthwhile and fun-filled experience," California Lutheran University senior Alex Choi said. "Also, who does not like some friendly competition?"
It is welcome to people of all ages with a restriction on height. You must be at least 48" tall to race. However, often children around seven and above are within the requirements to participate. MB2 Raceway is even set up for parties.
According to a former employee and current sophomore at Cal Lutheran Amanda Slider-Manfredi, working parties was her favorite part of the job. They have four rooms to rent out, and customers have a really fun time.
"We have a VIP room, which is a separate room for the privacy of their own private party. It has a pool table, leather chairs, a cocktail table and is set up to have food in there," Custer said. "We also have a conference room that can hold up to 100 people, and an additional two other birthday party rooms."
MB2 Raceway is set up to be a fun and thrilling experience however, they do take safety very seriously.
According to Custer, they explain the process to everyone and the employees take the racers through a brief safety orientation. This extra step before the racing ensures not only will the customer have fun, but they can do so while being safe for themselves and the other racers on the track.
They have a few rules and regulations that must be followed. They require all racers to sign a liability waiver and racers must wear helmets at all times on the track. There is no bumping, blocking or contact allowed between karts and all racers must wear closed-toe shoes.
"I recommend not wearing dresses," Slider-Manfredi said. "A lot of girls on dates make that mistake."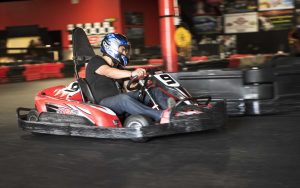 Besides for the basic rules, MB2 Raceway tries to cultivate a high-performance, exhilarating and unforgettable experience.
"I really enjoyed working there," Slider-Manfredi said. "The environment was really friendly, and the job was great because I always got to interact with the customers, which was a really big advantage."
If you are interested in racing, MB2 Raceway offers employment opportunities for students, especially during summer break. Several Cal Lutheran students have already been employed there.
For interested racers, MB2 Raceway is open from 12 p.m. – 10 p.m. on weekdays and from 11 a.m. – 12 a.m. on weekends. In terms of pricing, they offer a weekday special of two races for $23, while their normal cost is $20 per 14-lap race.
"MB2 Raceway is close by to the school, we are very user-friendly, we explain everything to everybody and base everything around safety," Custer said.
For those interested in visiting, MB2 Raceway's closest location is 1475 Lawrence Drive, Thousand Oaks, CA 91360. Contact them at 805-214-9999. They also have California locations in Sylmar, Clovis and Modesto.
Makenna Pellerin
Staff Writer
Published April 20th, 2016