Walk a few miles in a student-athlete's Nikes
No one could ever know how stressful it is to be a student-athlete unless you have walked in those shoes, or ran around in those Nikes on a daily basis.
My college experience has been unique in regards to the athletic world. Right out of high school I signed  up to play basketball at a university out of state and I thought my life was set.
I had worked almost my entire life to achieve the goal of receiving an athletic scholarship and playing the sport that I loved in college.  I got to school to start living out my dream, or so I thought.
As you can probably guess, I am not still at that out of state school. I elected to transfer and play for a local junior college to continue my collegiate career.
When it was time to transfer again to a university, I had a decision to make. I had to decide whether or not I was going to continue to play basketball competitively. 
There are many advantages and disadvantages to being a student-athlete.
To start off, the friendships you make with your teammates are an unbreakable bond. Even if you haven't talked to half the people that were on your travel teams growing up,  I can guarantee they are still some of your best friends. These same relationships are made here in college and will last a lifetime, even if you do move back home eight states away.
Another perk to living the dream and playing in college is the simple fact that you get to continue doing what you love. Not many people get the opportunity to continue athletically past high school so it is a pretty special thing.
If you are lucky enough to have been able to continue your sport of choice in college, you can understand that student-athletes have to stick to a strict schedule.
This is what I found was the most stressful about being a student-athlete. Not having any time for yourself can take a toll on a person. With games, practices, watching film and even finding time to do homework and going to class is not for the weak.
Although getting through finals week is a lot tougher when you are also preparing for a big game, being an athlete comes with some other territories that most people are afraid to talk about.
Injuries happen even to the most trained athlete. Accidents during sporting activities can be so damaging that they could follow you and continue to be an issue your entire life, but we do it for the love of the game.
Although injuries come with the territory of being a competitive athlete, there are phases when a person needs to accept that it is time to walk away from the sport that they love.
Kobe Bryant of the Los Angeles Lakers is a great example of this. Bryant had his last game April 13, a day he had been dreading for most of his life.
I am confident that Bryant wishes he could play basketball competitively forever, but every great experience it must come to an end someday.
Battling through years of injury Bryant decided to call it quits and retired from the game that gave him everything.
This does not make him a weak person or someone who stopped caring, but a person who has learned to listen to his body and accept that it is time to appreciate the game from a distance.
Knowing when it is time to walk away even if you feel that your time athletically has been cut short, I feel the hardest thing a student-athlete has to experience.
I unfortunately had to have this experience of saying goodbye to the sport that taught me everything after my second year of college.
Saying "see you later," to Spalding was not easy, but it was the best thing I could have ever done for myself.
Continuing as just a student at California Lutheran University was a great step in life that I took. I got to experience playing competitively in college as well as making my education my main priority without the distractions of basketball.
If I had still been playing I would not have been able to have so many opportunities in other aspects of my life and for that I am grateful. It has taken some time but I am even grateful for my three knee surgeries for pushing me to discover my other talents in life past basketball.
For anyone struggling to move on from their sport, have no fear. There are great things awaiting you on the other side of saying goodbye.
It might not seem like it now, but there is life beyond that orange ball and squeaky shoes. Have no fear, Spalding will always be there for you if you ever decide to come visit.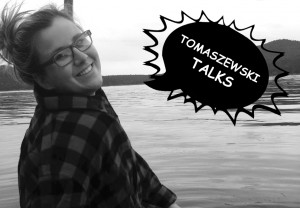 Heather Tomaszewski
Guest Columnist
Published April 20th, 2016