Track & field runs through SCIAC Multi-Dual No. 3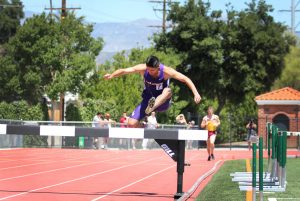 The Kingsmen and Regals track and field teams concluded their Southern California Intercollegiate Athletic Conference Multi-Duals season in La Verne on April 16 where they competed against Claremont-Mudd-Scripps, La Verne, Pomona-Pitzer and Chapman.
The Kingsmen defeated Chapman but fell to Claremont-Mudd-Scripps, La Verne and Pomona Pitzer.
Senior thrower Michael Bassette had a successful day in the field where he placed first in shot put, throwing the furthest with a throw of 15.94 meters. Bassette finished second in discus with a 41.67m throw and third in hammer with a 44.02m throw.
"It's always good to score points for the team, and relative to the rest of the competition I finished ahead of where I was seeded in discus and hammer. I didn't set any personal records, despite giving my best effort and I just tell myself to stay positive and focus on doing one thing at a time better than what I did before," Bassette said in an email interview.
Senior captain David Avila competed in the steeplechase, and finished with a time of 10 minutes and 50.26 seconds. Avila has struggled both with injuries and the hardships of this season being his last.
"I've been injured this whole season so I've been trying to push through the pain and motivate the team with my performance and cheering," Avila said in an email interview. "I'm going to miss everything. Most of all I'll miss the bonds I've made with my teammates. We're one big family and I wish I could see them all grow and perform."
Senior Nick Privitelli, who earlier this season ran the fifth-best time in California Lutheran University history in the 3000m, finished in fourth in the 1500m with a time of 4:01.62.
"I took it out pretty conservatively in the back and moved up with the next few laps to finish fourth. It ended up not being one of my fastest races but it was close. I'm pretty confident that I'll be able to rally back and break four minutes to get onto CLU's top ten all-time list at conference championships," Privitelli said in an email interview.
There was no competition in the 5000m, pole vault, triple jump, or long jump. However, the Kingsmen finished third in the 4x100m relay with a 43.63 and finished fourth in the 4x400m relay with a time of 3:26.26.
The Regals had a successful day where they went 3-1, defeating Chapman, Pomona-Pitzer and La Verne, while only getting beat out by Claremont-Mudd-Scripps.
Senior Allie Hadley fared well, as she placed first in the javelin with a throw of 41.22m, which was over 2m further than her closest opponent.
Despite facing a knee injury this season, senior Amanda Hamilton came in first overall in both the long jump and triple jump with lengths of 5.58m and 12m respectively.
"The meet went really well. We had a lot of PRs and it was a very strong team effort. This season I've been facing a knee injury, but so far we've done a really good job of working around it," Hamilton said in an email interview.
Hamilton then went on to run the 100m and 200m, finishing with times of 12.43 and 25.71, the best times for the Regals in those races.
Sophomore jumper and hurdler Carlie Burow had a successful meet, winning the high jump by clearing 1.57m and winning the 400m hurdles with a time of 1:04.74. Burow then finished as the top Cal Lutheran sprinter in the 100m hurdles with a 16.19.
Finishing the meet were the two relay teams, where the 4×400 team came in first with a time of 4:03.71 and the 4×100 placed second with a time of 48.56.
Both the Kingsmen (4-4) and the Regals (5-3) will compete at the SCIAC Championships hosted by Caltech on April 29-30, at Occidental College, with a 2 p.m. start time both days.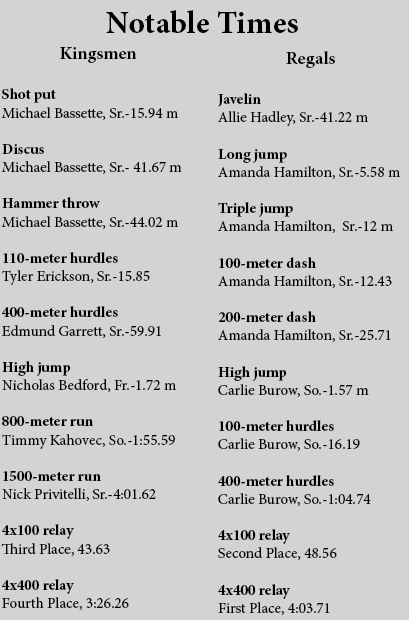 McKay Weiler
Staff Writer
Published April 20th, 2016