Shake(ing) up the stage for 24 hours
The California Lutheran University Kingsmen Shakespeare Company hosted a 24-hour marathon of Shakespeare-related events from April 23-24, in order to commemorate the 400th anniversary of the playwright's death.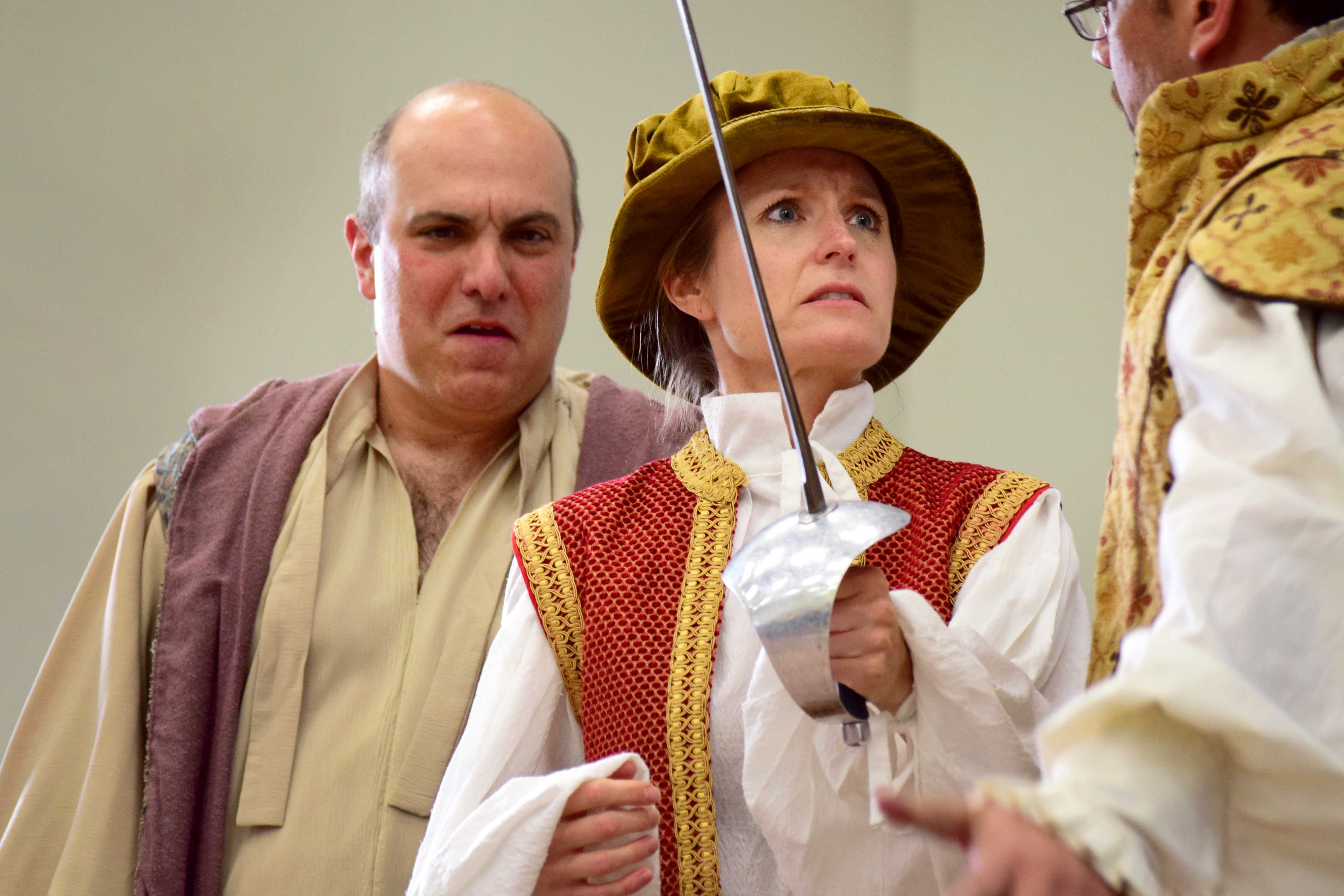 Often referred to as ''The Bard',' William Shakespeare has written over 30 plays as well as several sonnets and poems, according to the Shakespeare Online site. He has also contributed over 1700 words to the English language.
According to the KSC Facebook page, the schedule for the one-day event included panel discussions, a poetry slam of sonnets, a midnight reading of "Macbeth," a Shakespeare cabaret and Shakespeare yoga during the sunrise.
Bill Walthall, who is creator of The Bill Shakespeare Project, used to teach Shakespeare as a high school English teacher in Oxnard. During a presentation at the event, Walthall discussed the concept of time within "Romeo and Juliet".
"It's going to be a 30-minute presentation talking about everything from the specific dating references in the play which we don't usually find in Shakespeare's other plays through discussions of particular dates, timelines and even error in either the writing or editing that lead to discussions of time," Walthall said in a phone interview.
Walthall, along with KSC directors Michael Arndt and Brett Elliott, moderated the panel discussion on traditional versus alternative staging and settings for production of Shakespeare plays.
"We're going to talk a little bit about the tradition, trying to present as realistic as possible given the literary setting of the play, and then how modern interpretations have branched out of it. Directors are free to kind of place the action of the plays in times and places that convey their directorial vision more effectively and efficiently for the audience," Walthall said.
Arndt, who is a professor of Theatre Arts at Cal Lutheran and the artistic director of Kingsmen Shakespeare Company, said the event is also in celebration of KSC's 20th season of summer festivals. Arndt, who will be directing "Henry V" during this year's festival, said that Shakespeare's plays are very influential because people find things in the plays that they can connect to their own lives presently.
"Those elements of humanity and psychology that exist in his plays are still part of the human experience. I think he was able to blend sophisticated language and stories of nobility with everyday common language and people and he would be able to put them in the same play. So, if you were very educated or not, you could understand one of his plays," Arndt said.
Junior Cecilia Lindgren, who participated in the Shakespeare cabaret, has interned with KSC for three years and said that all of Shakespeare's plays tend to use the same themes.
"My favorite [play] is 'Titus Andronicus,' which is [Shakespeare's] goriest play. People get killed and then baked into a pie and then their mom eats it without knowing it and a girl gets raped, and then her hands are cut off and so is her tongue," Lindgren said.
Lindgren said she also enjoyed reading "Love's Labour's Lost," even though she first read the play this semester.
"It's a really good play and it's a comedy but it ends kind of sadly. The female characters are super smart and witty, so I like that part, and they trick the guys a lot which is fun. The same things keep showing up in all the shows and it of course happens in 'Love Labour's Lost,' but it's more original because it ends tragically even though it's a comedy," Lindgren said.
According to CNN, robbers may have stolen Shakespeare's skull three centuries ago from his grave. The tombstone's inscription states a warning to all who read it to not remove anything from the grave. Arndt said it's a fun mystery, alongside the mystery of whether or not Shakespeare truly wrote his plays.
"But this mystery, there's a curse that's written on his grave 'to anybody that moves my bones'. People have wondered because the rumors have been existent for a long time and they figured probably 200 years ago, somebody stole his skull," Arndt said.
Leina Rayshouny
Staff Writer
Published April 27th, 2016