California Lutheran University went green last week for the celebration of Earth Day with one of the Community Service Center's signature events, Green Week. This year's focus was on sustainable living. Through coffee talks on the spine, yoga in the park, a free Patagonia movie screening and a sustainability fair, students were exposed to new methods of living on less.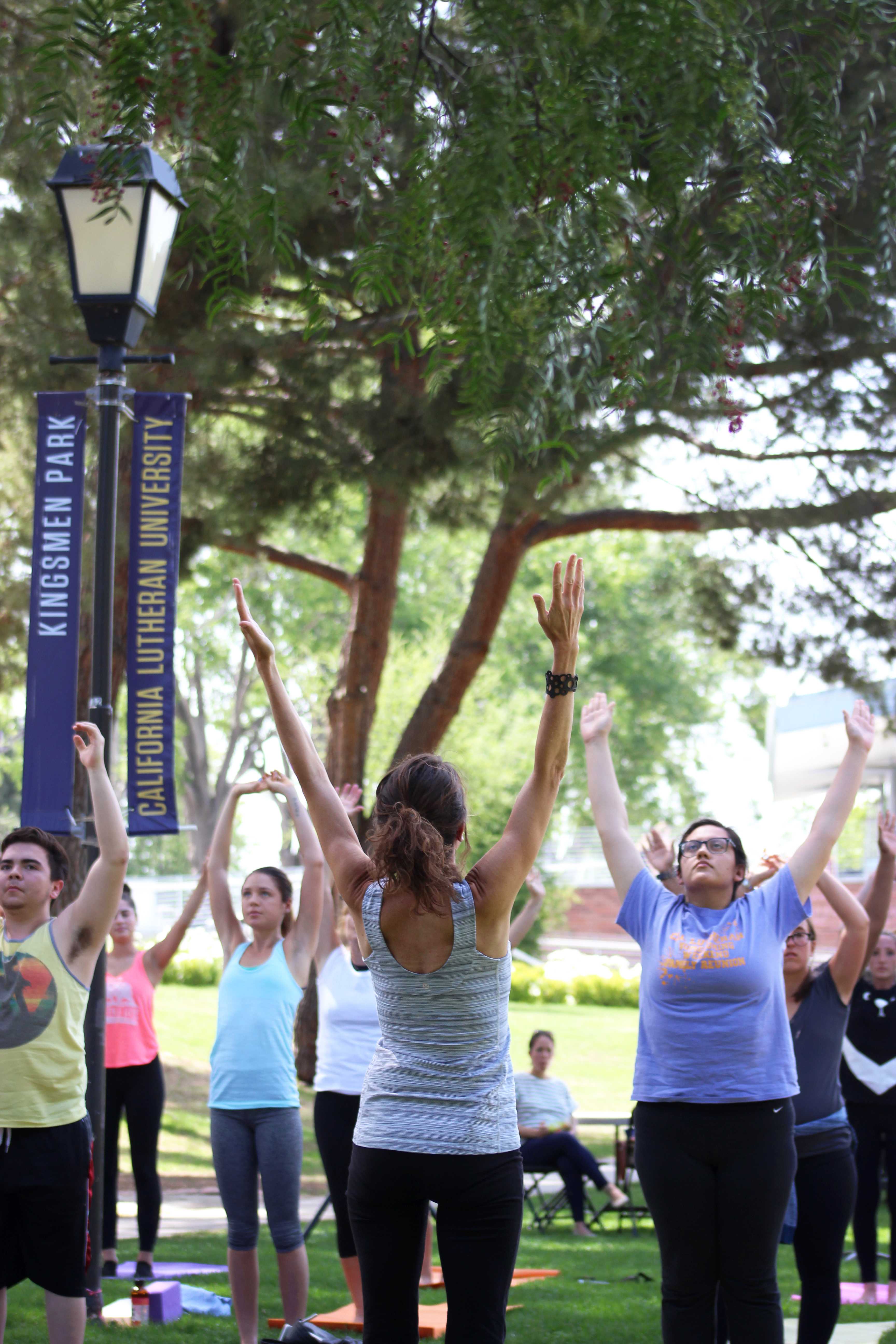 In 6 Minutes of Service Friday, students had the opportunity to roll up their sleeves and make seed bombs, or wrapped clusters of seeds, to donate to Conejo Valley Parks and Recreation.
"The week is sponsored through the Community Service Center with Student Life, in which we provide a variety of different programs and activities for student to engage and learn about how to be more sustainable," Nicole Cozzi, coordinator for the Community Service Center, said. "Green Week has been occurring for several years around Earth Day."
With Passover and Earth Day both falling on April 22, there was a collaboration with Interfaith Allies to see sustainability through a religious lens. Meeting up in the SEEd Garden for a Garden Party event, faith and nonfaith students were invited to discuss their viewpoints on this issue.
"We're collaborating with Interfaith Allies. We are going to be talking about the idea of sustainability through the eyes of interfaith," Cozzi said.
Fair Trade had also been a prominent theme throughout the week. Senior Jessamine Gilman-Vorm, both the global justice intern and the president of the Students for Fair Trade club, have worked hard to integrate its core ideas into the week.
"Fair Trade products, not only do the people get a fair wage and can fairly trade and have a sustainable and fair income, but they also use sustainable practices," Cozzi said.
According to Gilman-Vorm, businesses applying for Fair Trade certification must adhere to multiple environmental regulations for approval. Their facilities must be clean, safe and in the highest sustainable working conditions.
"I implemented the aspects of Fair Trade that we are seeing throughout Green Week," Gilman-Vorm said. "It's also just really great for students to have the opportunity to have a week-long event where we offer different ways for them to be sustainable."
Senior Pua Mo'okini-Oliveria has been working since February as the sustainability intern to plan the event. Her work has been focused on developing events and securing off-campus vendors for the sustainability fair.
"It's been in the works since the beginning of the semester, it has been my main focus," Mo'okini-Oliveria said. "It started as brainstorming, just seeing how we could engage students."
The sustainability fair was a hit on April 20 with a variety of local vendors. The Abundant Table, Fair Trade LA, Yerba Mate, Pedego Electric Bikes, Food Forward, California American Water, Cal Lutheran's SEEd Project and Immortal Element all had booths on the spine to engage the campus community.
"We definitely saw a great turn out. A lot of people were really stoked to check out some of the new vendors we had this year," Gilman-Vorm said.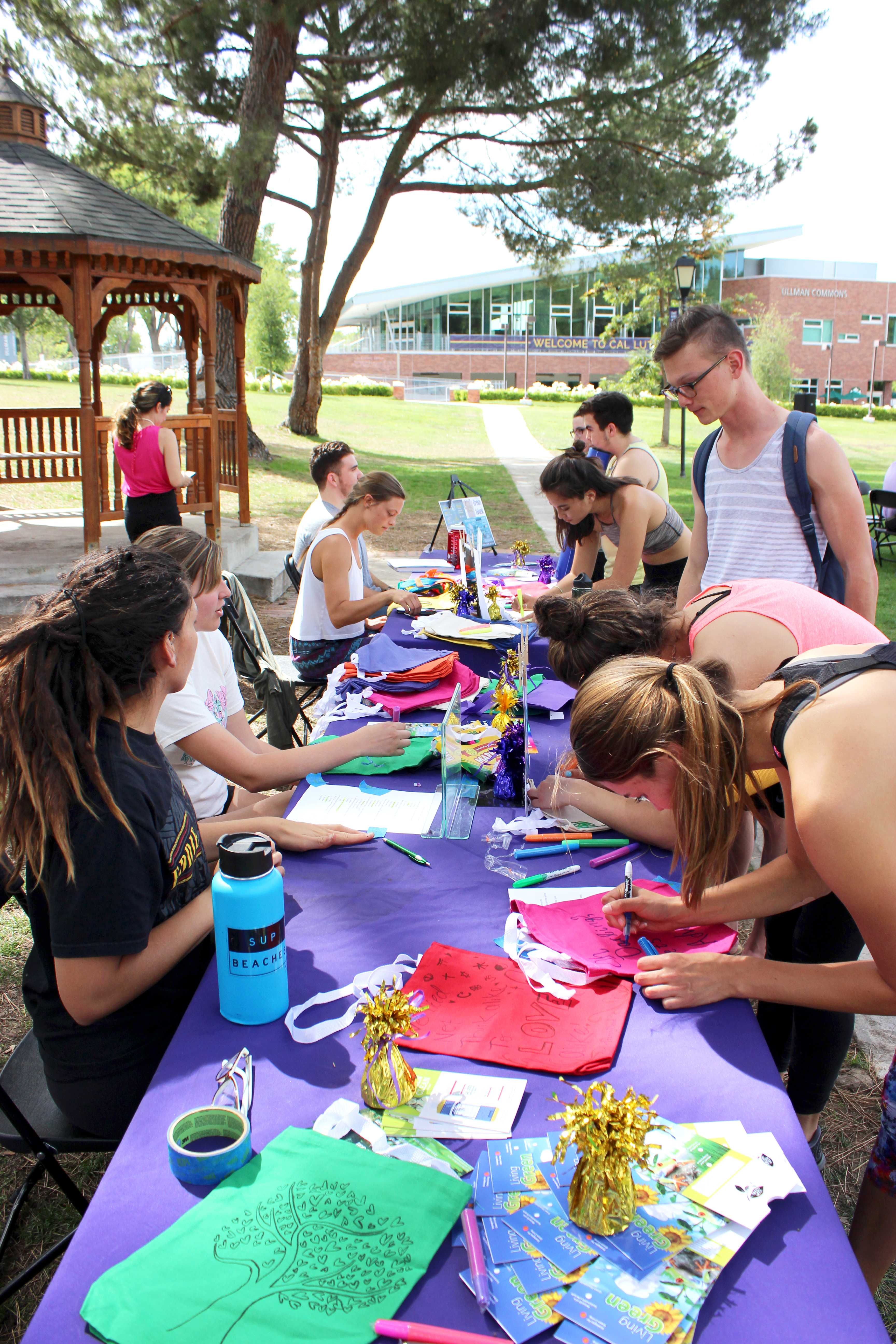 From volunteers picking overgrown fruits from residential backyards with Food Forward to $2,000 battery-powered bikes for sale at Pedego Electric Bikes, vendors had a variety of sustainable ideas to inspire students.
"We're having mostly off-campus vendors join us and kind of preach their own ideas about sustainability and how they are a part of the movement," Mo'okini-Oliveria said.
There is even a community desire to be involved on campus. Linda Coburn, owner of the independent distributor for Pedego Electric Bikes in Westlake Village, sought out means to educate students about their sustainable initiatives.
"I actually approached Cal Lutheran about getting involved in any kind of events they had that had to do with sustainability," Coburn said.
Some of these organizations even had Fair Trade certification in mind. Both Yerba Mate and Brazuka Coffee, who provided coffee for a Green Week event, already had a Fair Trade certification. Immortal Element, a small handmade copper jewelry business based in Nevada City, California, is currently working on obtaining their certification.
"The way we are going right now, it's not sustainable. We keep looking for short-term solutions, but we need to be thinking long-term," Cozzi said. "We hope that Green Week can show the campus community how to make those small steps to think long-term instead of short-term to better all of us."
Molly Strawn
Staff Writer
Published April 27th, 2016