On April 29, California Lutheran University hosted rapper and hip-hop artist Sage the Gemini in the Gilbert Sports Arena from 8 – 10 p.m. Battle of the Bands winners Lancer Roscoe and Nolan Forghani were the concert openers.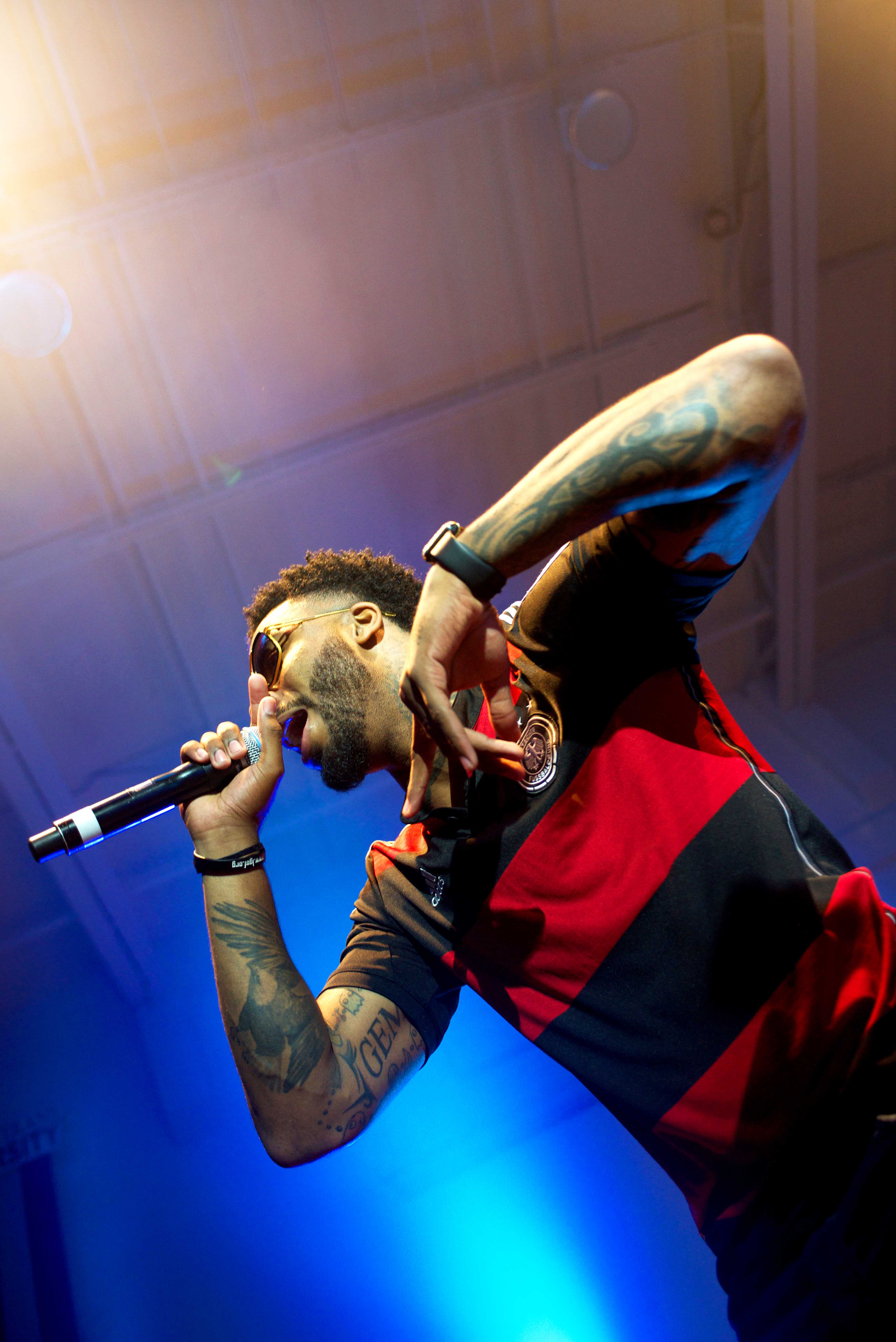 Programs Board, a branch of the Associated Students of California Lutheran University Government, hosted the event.
This year, Programs Board decided on a spring concert rather than a spring formal event to host at the end of the year. Programs Board Director for the 2015-2016 academic year Amber Trujillo spent her summer working with Cal Lutheran's booking agent Babco Entertainment to try and find perspective artists within budget to come to campus.
"There's many opinions, and as Programs Board we really try to listen to all of them and make the best decision," Trujillo said.
For the first time, students were able to vote for their favorite artist to bring to campus throughout the end of the summer and the fall semester. Sage was the overall winner with 40 percent of the student vote.
"We started planning last spring, so it's been a year-long process," Trujillo said. "To give options to the students, we made it known that we were having a spring concert that early on and to really make their voices heard."
Multiple tents lined the outside entryway from the radio station Power 106, Cal Lutheran's campus radio iCLU, Her Campus and IndieU, a music platform connecting college students to independent artists.
Outside security was also hired to monitor the event. Ten additional security officers from Contemporary Services Corporation were on sight and bag checks were required for all in attendance.
Alternative rock band from Cal Lutheran, Lancer Roscoe, played a set of six songs at the beginning of the concert starting at 8 p.m. The band consists of Caleb Arndt on guitar and vocals, David Cheung on guitar, Torrance Charles Klein on bass, Edward Hill filling in for Parker Trent on drums and percussion and Riley Herrera on vocals and auxiliary.
"This is a great opportunity for us," Arndt said. "We were excited, we have a great sound system and everyone has been great."
They were followed by hip-hop artist Nolan Forghani, performing songs such as "Blow Up."
"I was really excited to get the crowd involved," Forghani said. "Just keeping the energy up, getting the crowd involved and making sure everyone has a good time."
Both opening acts were voted on by the student body at Battle of the Bands and were notified via email by Trujillo that they had won. They were then extended formal invitations to open for Sage. All other contestants were given free tickets to attend.
Sage performed for approximately 35 minutes, and his disk jockey, DJ Lucci, brought up crowd energy prior to his performance for 20 minutes. At 9:15 p.m., Sage performed some of his less-known songs such as "College Drop" and also top hit features including Flo Rida's "Going Down for Real." He added his own original, "Red Nose." He concluded with "Gas Pedal" and crowd interaction.
The student event planners were divided into four committees: marketing, tech, hospitality/security and logistics.
Tickets were available to Cal Lutheran students, surrounding school students, Cal Lutheran faculty and staff and the general public at different prices.
"I didn't have this high of expectations, but I thought it turned out to be really fun, hanging out with friends and stuff. I think it turned out really well," Cal Lutheran sophomore Kyla Wenzel said. "I just came for the fun."
Molly Strawn
Staff Writer
Published May 4th, 2016