Showcasing students' work
From religion to English, exercise science to criminal justice, California Lutheran University hosted a week-long Festival of Scholars with a wide range of topics from all disciplines, April 25 – 29.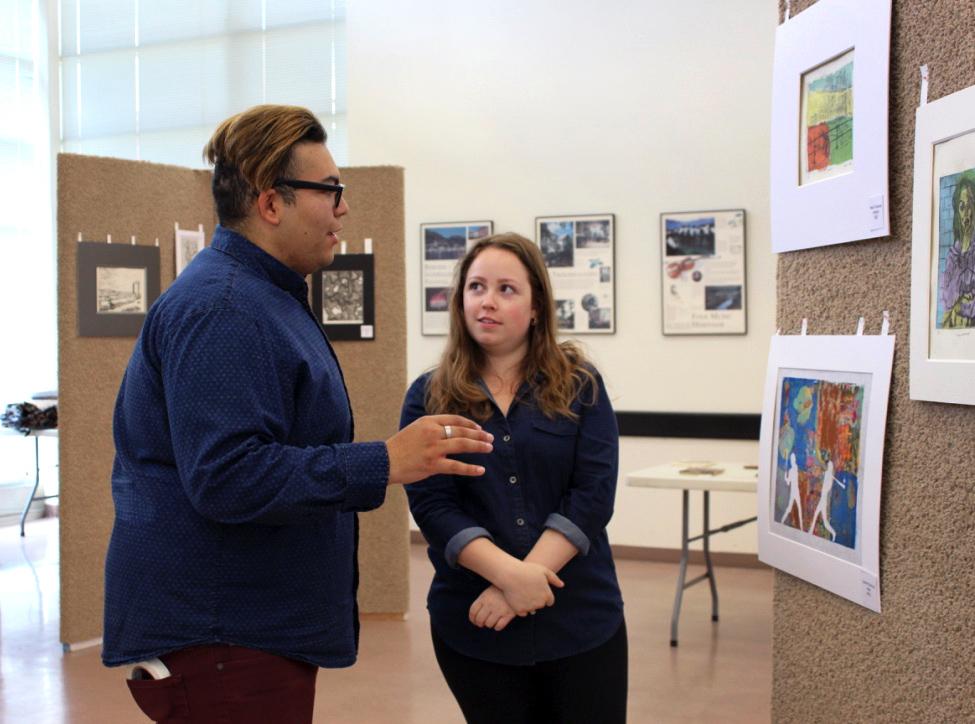 The week showcased research posters, honors society inductions and sabbatical presentations.
"I'm a nerd," Geroge Nasr, Festival of Scholars presenter and Cal Lutheran senior, said.  "I love the stuff that I do and I get passionate about really tiny things that probably don't matter to many, but it matters to me. So the cool part about presenting at Festival of Scholars is that it's my way to kind of share the silly excitement I have, but to show people, 'Look, I did a thing and it's actually kind of cool.'"
On April 25, the Multimedia: Digital Cinema panel in Soiland Humanities Center 124 showcased two student movies, "Life is for Living," working title "Dream Girl" and "Killer."
As a five-month project in the making, "Dream Girl" brings to life the idea of Grant Yurosko in a short film drama about a man who must decide between living forever in his dreams or facing the reality of life by waking up.
"Killer," once a project of multimedia students, now considered an indie film being finished by alumni—begs the question: what if you woke up and realized you had been captured by a strange masked man?
The panel consisted of the "Dream Girl" production crew, Faculty Mentor Daniel Restuccio, Producer Jacob Steagall, Writer Henry Studebaker, Director Jenna Malinowski, Cinematographer Scott Stevens and Creator and Writer Grant Yurosko who discussed the making of the film and presented a few behind-the-scenes photos.
"It's kind of interesting," Steagall said. "You see the final product in a movie and you don't really know what goes into it, all the struggles and things like that. Like when we casted for 'Dream Girl,' we put out 400 emails to actors and four people showed up and they were all for the same part. You know the end product is going to be good so you just keep pushing up the hill and eventually you make it over the peak."
Over 60 Cal Lutheran students presented science-related research in Soiland Recreation Center on April 29.
In particular, Nasr showcased his color-blindness simulation goggles which he created using his knowledge of computer science and algorithms from Color Oracle.
"It took a lot of time and it was a lot of struggling," Nasr said. "There isn't a direct correspondence between the way your eyes see light and the way we represent light on a computer screen."
Nasr could change the settings of the goggles to mimic different variations of color blindness and bring about awareness of what it is like to live with those types of vision.
From more of a life-science perspective, senior Louis Burgos presented his research of local lizards and interpreting the meaning of blue patches on their underside.
Burgos spent June 2014 to August 2014 catching lizards on Mt. Clef and measuring bite force, sprint speed and the underside patches to try and understand how these patches might correspond to a display of social dominance.
"We didn't find any statistical relationship between the color patch and bite force or between the color patch and sprint speed," Burgos said in an email interview. "However, even though it wasn't a statistical relationship—which has certain requirements—we did see a small trend appear between the color patch and the bite force. That trend may or may not exist on a larger scale, but the only way to know would be to have more lizards in our sample size."
Overall, Burgos along with his researching counterparts, appreciated the experience of presenting at the Festival of Scholars.
"It's like the best thing you could do at Cal Lu," Burgos said. "There's nothing in comparison to doing undergrad research."
Rachael Balcom
Staff Writer
Published May 4th, 2016