Regals avenge somber senior day, sweep Bulldogs
On April 29 the Regals softball team celebrated their senior day by hosting a double header against the La Verne Leopards at Hutton Field.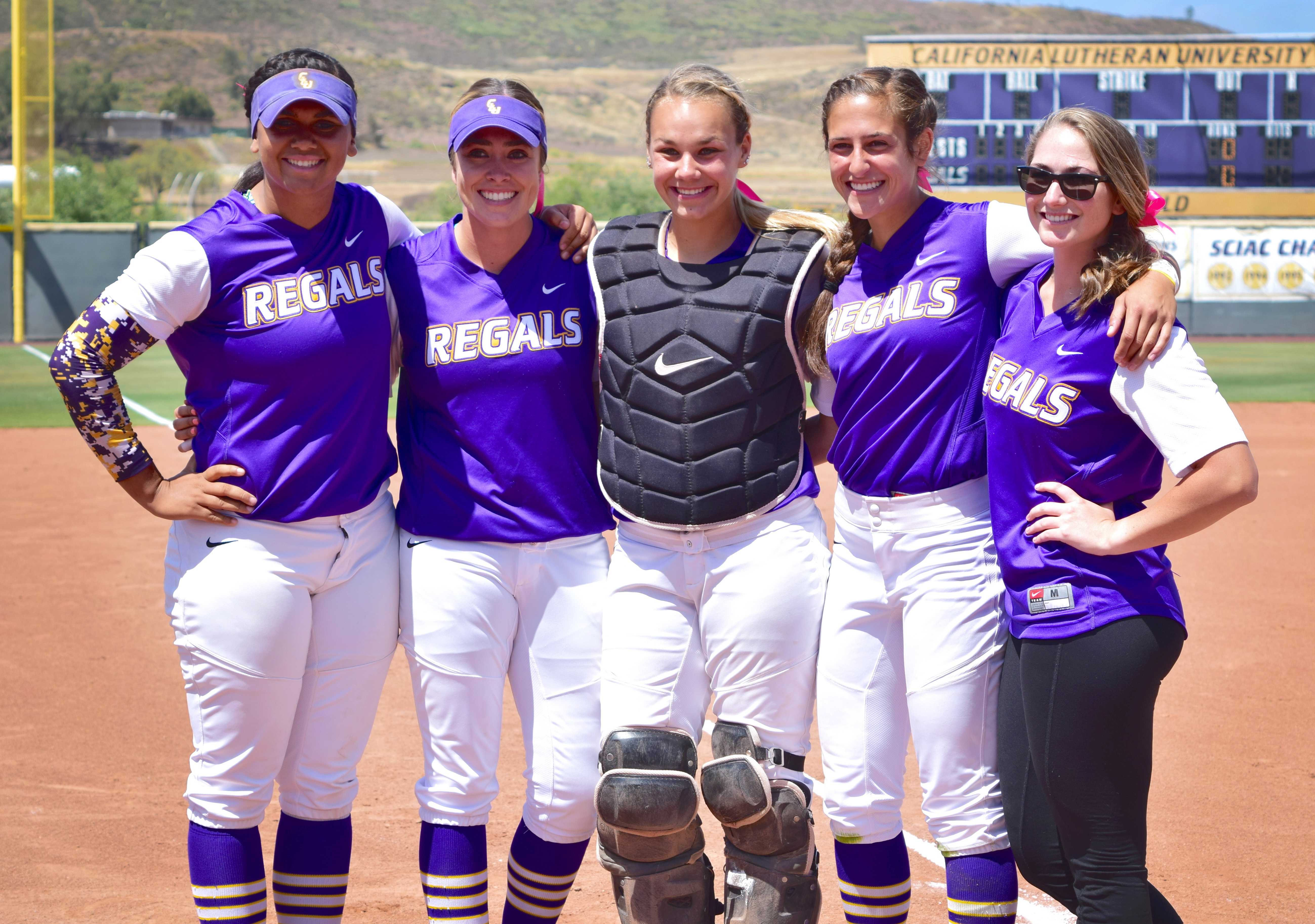 Five seniors were recognized before the first pitch was thrown as well as a senior dedicated ceremony to conclude the day.
Those honored included catcher Taylor Beacham and first baseman Blake Lewis, who are both four-year players, outfielders Andrea Brackpool and Hannah Brown who are two-year team members, and one-year Regal outfielder Brittney Reed.
"In general softball has been our lives since we have been about 6 or 7 years old," Beacham said.  "We have two more games against Redlands and then that pretty much it. It's going to be weird to have a life without softball."
Brackpool said  she has had a great time playing for the Regals and has made plenty of friends while attending California Lutheran University.  She said she is excited to go to nursing school after graduation and see what life has planned for her.
"I believe our seniors played great," Regals Assistant Coach Sam Fischer said.  "Taylor came up with a big hit, Andrea had a couple hits, Blake had good at bats. They all did as good as they always do and the emotion of it being senior day added to them doing well."
Despite a valiant effort for a last hurrah, the women's softball team suffered two losses, 8-0 and 13-4, to the Leopards within a matter of five innings per game.
Game one was a tough one due to La Verne senior Katherine Kibbe pitching a near perfect game until Brackpool broke it up with a single up the middle in the fifth inning.  Kibbe finished the shutout with six strikeouts.
The beginning of game two started off strong in favor of the Leopards, getting three runs in the first.  However, the Regals were not stopped by La Verne's quick start putting up two runs of their own from Brown and sophomore infielder Scooter Rapisardi.
After two more runs by the Regals in the bottom of the fourth, La Verne was forced to bring back Kibbe not allowing any more runs from Cal Lutheran.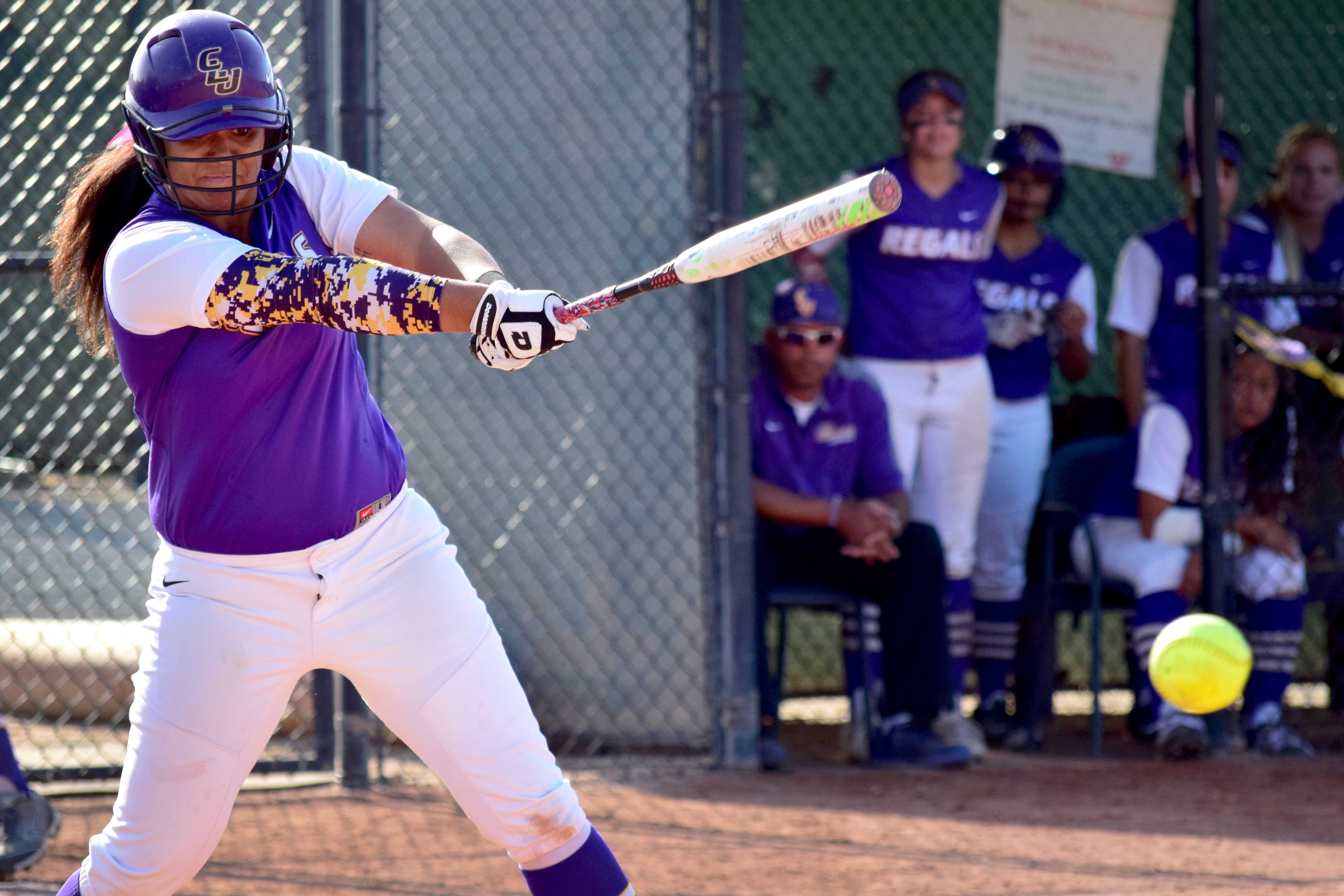 Down nine runs, the Regals were unable to make any more moves, ending the game with a loss 13-4.
"Compared to the way we played them the first time we did a lot better this time around," Fischer said.  "We had a little more fight in us and especially in the second game we put up more of a battle. It was a huge improvement from the first time we played them."
"Of course there are moments we can learn from in these games but that's how it is in all sports and luckily we have two more games tomorrow," sophomore infielder Olivia Leyva said.  "I'm just happy I get to play one more day with these [seniors]."
The Regals were able to finish the season strong however, with two wins over Redlands on May 1. The games were originally scheduled for April 30, but were rescheduled due to inclement weather.
According to the CLU Sports website, Cal Lutheran was able to take an early lead with the help of a home run by Brackpool in the second inning. Brackpool continued her strong play with an RBI double in the third. Blake Lewis added to the offensive showcase with a three-run home run in the fifth securing a 6-1 victory for the Regals.
Junior pitcher Courtney Sooy had a stellar outing, throwing a complete game only allowing one run on six hits to go along with two striketouts.
Game two had less offensive fireworks, but the Regals were able to come out on top with the help of another solid pitching outing from junior pitcher Nicole White-Madolora, going 5.1 innings and only allowing one run. Sooy came in the bottom of the sixth inning to shut the door, earning her first save of the season.
Offensively, the Regals scored two runs in the first inning and that was all they needed, as the game finished with a score of 2-1. Blake Lewis had the two lone RBIs as she smacked a two-run single scoring Brown and sophomore infielder Jacy Watanabe.
Brown finished the day with a combined 4-for-7 with three runs in her final doubleheader in a Regals uniform.
The Regals finished the season with an overall record of 17-22 and conference record of 11-17, missing the conference tournament by just one game. They will work hard all offseason with hopes of returning to the tournament in 2017.
Dean Hendrix
Staff Writer
Published May 4th, 2016