Football is Back
The fall semester has officially begun at California Lutheran University.  Other than class itself and the cooler temperatures, the fall season signifies one other thing.
It's football season, ladies and gentlemen.
The 2016 football season for the Kingsmen seems optimistic as they hope to avenge last season's faulty finish, finishing 4-5 overall and 2-5 in the Southern California Intercollegiate Athletic Conference.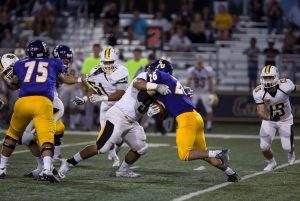 First Team All-SCIAC defensive end, senior DeJo'n Rothschild believes he and his teammates can and will turn things around for the Kingsmen this season.
"Expectations for us are high this season.  Our focus is on playing fast, physical and finishing our drives," Rothschild said. "We are going to push ourselves to the limit, but we are going to just take it one week, one game at a time and focus on the present moment."
The Kingsmen lost several of their key players from last season, but scored big in the off-season with a top-notch recruiting class, adding over 50 new players to the roster.
Six receivers graduated this spring which left the wide out position wide open.  Senior wide receiver Javi Zaragosa transferred to Cal Lutheran this fall to help on the receiving end and to help lead the Kingsmen to victory.
"We have a lot of incoming talent, both freshman and transfers.  It's a really good recruiting class.  We're more pass heavy and have a lot of receivers who transferred from other colleges," Zaragosa said. "We have a great quarterback, a solid offensive line and key players in the backfield as well as receivers."   
While there are a number of newcomers, the Kingsmen welcome back more than 40 of their returning players.  Junior Adam Friederichsen returns under center with Isaac Seymour and Foorever Campbell in the backfield.
Four offensive linemen are back to protect Friederichsen and to help make plays on the ground.
Senior Logan Sanders, junior Lucas Quinn, junior Trevor Roe and Rothschild are key returners for the Kingsmen's defense.   
The players traveled to Washington state over the weekend for their game against Pacific Lutheran University Sept. 10.
While the Kingsmen fought hard to bring home a win against the PLU Lutes, they would fall short in the season opener with a final score of 14-17.
"We look to be competitive in the SCIAC, but the end of the day, we got to play our game, play hard and play physical. We gotta play Lu ball," Zaragosa said.
The Kingsmen home debut takes place on Saturday, Sep. 17 at 1 p.m. against the Willamette Bearcats inside Rolland Stadium.
Tate Rutland
Staff Writer