Self-care Kits For World Suicide Prevention Day
Since 2003, individuals from around the world have come together on World Suicide Prevention Day to promote the themes of connection, communication and care. On Sept. 6, students at California Lutheran University came together in Kingsmen Park to support the cause.
Four tables in the park had the options to make trail mix, a lip scrub, scented oils and a wellness jar. These activities aimed to care for the different areas of wellness.
Brett Billet, coordinator for Recreational Sports and Wellness, and Andrea Treptow, associate director of Student Life, created this event with students in mind.
"Student interns worked with us for table themes. Whatever they thought students would need," Treptow said.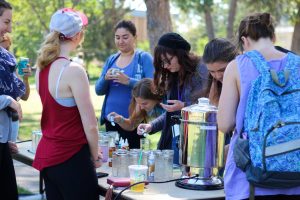 The trail mix focused on taking care of yourself physically by eating healthy food. Students could customize a trail mix bag. The table had various nuts, raisins and chocolate so students could make a combination of salty and sweet.
The second table had a lip scrub for students to make. After combining brown sugar, coconut oil and chocolate powder, students mixed their creation.
Sophomore Parnia Vafaei commented that simply making the lip scrub served as a relaxation exercise. This activity helped students learn how to lower emotional stress and care for themselves.
Scented oils covered the next table and once again students were able to create a relaxation tool. Students could mix and add the scents they desired in a little bottle. These oils are used during situations to lower emotional stress.
"Seeing the students actively engaged in creating self-care items made me the most proud," Billet said.
The final table had jars, glitter, food coloring and hot water. Students first added glitter then filled the jar with food coloring and water, creating a personal wellness jar. During a stressful situation all one has to do is shake the jar to make the glitter swirl, and focus on one's breathing until the glitter settles. If done One should be calm by the time the glitter has settled. This activity focuses on mental health and remembering to take a breath and relax.
"This is a reminder to take care of yourselves and be mindful of emotional, physical and mental ways. We have a variety of activities to raise awareness for everyone on campus," said Scott Silverman, assistant director of Student Life.
Most people on campus can anticipate a stressful semester whether it is due to classes, sports, jobs or all of the above.
"Knowing anxiety and stress is going up, right off the bat we wanted students to know the resources and provide tools to manage the stress," Treptow said.
This way students have the tools to deal with the stress before they get too overwhelmed to seek out help.
In addition to these activities, Counseling Services also had a table available to communicate potential signs and steps student could take if they or a friend experience signs of depression.
Counseling Services is a tool open to all students and is accessible anytime throughout the semester for those seeking help for themselves or a friend.
The awareness activities will continue in October when Student Counseling Services will host Depression Screening Day.
Anissa Fraijo
Staff Writer