Cal Lutheran to Host Suicide Awareness Walk
"Do not ever be afraid to just ask someone if they are thinking about harming themselves." This was one line repeated at the Suicide Prevention Lunch and Learn hosted Sept. 10 at the Thousand Oaks Library. Hosted by the American Foundation for Suicide Prevention, the event was put on for people to hear stories and gain knowledge.
The lunch and learn was introduced by AFSP Board of Directors Emeritus Michael Matthew. He spoke about his personal experiences with suicide and how it affected him and his family.
Following Matthew's words, Howie Wennes stepped on the stage with his wife Mary Wennes and led the group in a quick prayer. After the prayer, the Wennes couple shared their story of how they lost their son David Wennes to suicide and how they dealt with his death.
"Any chance we can use to help people be aware of how dangerous depression and despair can be…we want to be there for people," Howie Wennes said.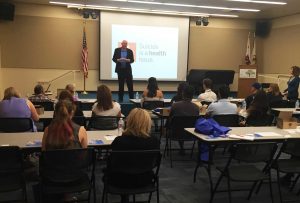 Matthew then stepped back on stage with Pamela Farkas, a local therapist who also has dealt with the loss of her son by suicide, to share statistics about suicide and talk about what questions you can ask, and what you can do to help those who are affected by suicide.
Matthew, who lost his brother to death by suicide 12 years ago, stated that suicide is the 10th leading cause of death in the United States and on average there are 117 suicides per day in the U.S.
"I went from being a cynic about suicide prevention to its what I do. It's my ministry," Matthew said.
The lunch and learn was concluded with a few videos and a brief questions and answers segment for the attendees.
Following this lunch and learn on a later date there will be a walk to raise awareness on the campus of California Lutheran University.
Cal Lutheran sophomore Petra Rickertsen is in the middle of an event planning internship, and one of her tasks is to help advertise the suicide prevention walk happening on the campus. She was in attendance for the lunch and learn.
"Having a lunch and learn is a great way of having people who have a knowledge about it and for people who want to have a knowledge about it come together and have an educated discussion," Rickertsen said.
She was approached by a correspondent of Howie Wennes about the possibility of promoting the walk that is still not officially dated, but is being planned for the first weekend in March according to Matthew.
Rickertsen, who has been involved in advertising other events, jumped at the opportunity when asked to be a part of this group. She has been involved with this group of people since the beginning of the year.
"It's some individuals from the YMCA and then Howie Wennes, who wanted to work together to put on this event because of their personal experiences with suicide," Rickertsen said.
The event is intended to get the community out and to learn about something that has affected over 42,000 people in the U.S. each year.
The AFSP, which is hosting the event, expects 300-400 walkers, according to Matthew. In addition to the walk, the event will host 10 different agency booths to talk about resources available for suicide detection and prevention. The exact date and time of this event is to be announced.
Gabriel Naudin
Staff Writer