California Lutheran University houses approximately 1,410 students according to the Director of Residence Life and Student Conduct, Chris Paul. With the ratio of students to housing being so imbalanced, Cal Lutheran faces the issue of halls being overcrowded. This issue has forced some students to live five to a traditionally four-person a dorm, and other students to even live off campus.
"I don't really have my space per say," said Jose Carranza, a junior currently living with four other students in a two-bedroom dorm.
Carranza was not only placed into a dorm with four other roommates, but was not informed he would be until he arrived on campus.
"Res[idence] life really didn't inform me, I didn't get an email. My roommates didn't even know they were getting another roommate," Carranza said.
Carranza said the room he lives in is overcrowded. Carranza said he sometimes even lays on the floor. He described the room as always "messy" because the individuals have minimal personal space.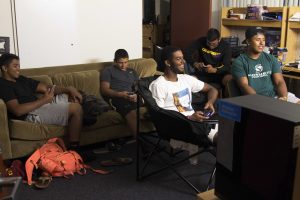 Though Carranza believes his living situation in the residence halls is crowded, Residence Life does not recognize student housing as "overcrowded."
"We are not overcrowded, rather, our housing is just really desirable so that is why we have so many students on campus this year," Paul said in an email interview.
Due to the number of students wanting to live on campus, Paul said there are approximately 22 students living in The Knolls Apartments.
Paul said Residence Life put as many students into on-campus housing first until they filled up, then began housing students at The Knolls Apartments. The Knolls Apartments are located on Vista Wood Circle in Thousand Oaks. According to MapQuest, the apartments are 3.7 miles away from campus, and the students who live there have to drive about seven to eight minutes to get to school.
Similar to Carranza's dealings with Residence Life, Brett Halasz, a junior who was chosen to live in The Knolls Apartments, was unaware of his living situation until days before his move-in date.
"I got an email about 10 days before school started, it was pretty late, like last minute, and they told me I wasn't going to live on campus, they were going to put me at The Knolls," Halasz said.
Halasz said he paid his down payment to live on campus and was told he would be living in Trinity but never received a confirmation email. Though Halasz did not mind living off campus, the lack of communication from Residence Life worried him. With only a 10-day notice of where he was going to live when he arrived on campus, Halasz was just hoping for somewhere to live.
"We are handling it quite well. The best part is that students see the opportunity to live on our campus and in our amazing halls and we just want to give everyone that opportunity," Paul said.
Residence Life may want to give all Cal Lutheran students the opportunity to live on campus, but they are still failing to stay in contact with the students who are living in such tight living spaces.
"They should email us like, 'hey we are still trying to help you, we are still giving you a discount, just remember that,' or something, or at least even let me know we're getting a discount. They should definitely be more informative," Carranza said.
Students living five to a two-bedroom dorm are receiving price reductions, Paul said. The Cal Lutheran website states that those living in a standard residence hall pay $7,010 and those living five to a dorm have their price reduced to $6,800. Carranza said he was never told he would be receiving a price reduction, and when he called Residence Life to ask if that statement was in fact true, there was no answer.
Although Residence Life does not identify student housing as an overcrowding issue and explained that they are handling the situation well, both Carranza and Halasz conclude that Residence Life needs to be more informative and proactive with students who are not living with the traditional four roommates.
"They should just figure it out faster, so if school starts on the 31st, I shouldn't be finding out days before like I did. It was late. It was definitely nerve racking. They should definitely figure this out next time in like July at least," Halasz said.
Maryssa Rillo
Staff Writer