Involvement Fair Draws Hundreds
On Sept. 13, California Lutheran University held its annual fall involvement fair along Regals way, also known as the Spine. The event is intended to get students out and involved with campus clubs and organizations.
"Hopefully we get a lot more students involved… It's especially great for freshman who are just coming in and haven't been involved or introduced to any clubs" said Clubs and Organizations Accounting Intern Kyle Nazareth.
Many students walked up and down the Spine looking for what clubs interested them, and there were no shortage of options. Over 60 clubs lined up hoping to get signatures.
"There are about 10 new clubs as well as clubs that have been resurrected from past years. There [are] currently over 80 clubs and that number grows every month," said Coordinator for Student Involvement Ri'chard Caldwell.
A few new faces to the club fair this year include ShapeTheLu, which is a club designed to help students get fit, as well as the Purple Pit, who are supporters for many of CLU's athletic teams.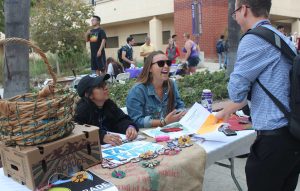 "This year's clubs are more active, especially in the area of recruitment. They want to grow and we want to do everything we can to help them," Caldwell said.
With over 800 new students, returning commuters and residents, the annual involvement fair was packed with people trying to find the club that fit them best.
The clubs varied from academic clubs to volunteer clubs, which gave every student the opportunity to sign up for groups that caught their attention and matched their passions.
Spike Ball club was another one of the booths featured.
"[It's] just for kids to be able relax… It's a time for kids to just let loose and not worry about anything and just play some spike ball," Spike Ball Club Co-president Nelson Pyle said.
The club is entering its second year of existence and looks to have 50 to 60 members this time around.
"[I signed up for] so many [clubs] I can't even remember," Freshman Christian Moreno said.
Moreno is also looking to be heavily involved in the Latin American student organization.
The club fair is welcome to all students of Cal Lutheran and students are encouraged by not only clubs, but peers as well.
"I encourage freshman to join honestly. I didn't join any clubs as a freshman because I was overwhelmed," senior Perry Lee said.
If you missed out this time around, there will be another opportunity for you to be involved Jan. 31 from 11 a.m. to 2 p.m. on Regals way, as well as a fair during Admitted Students Day in April, according to Caldwell.
A club directory online lists all active clubs and how to contact officers.
For more information on how to join or even make your own club, contact [email protected]. You can also visit http://www.callutheran.edu/students/clubs/policies-information/club-policy.html.
Gabriel Naudin
Staff Writer